As the world re-opens, residential screens create a timely OOH alternative for brands
Vertical Impression's study finds residential elevator traffic is at 91% of pre-pandemic volume and going up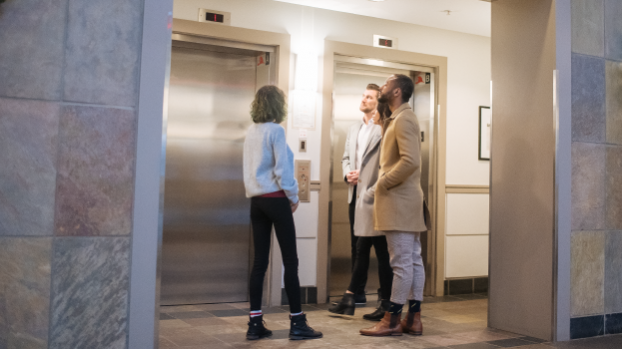 Some may chafe at the thought of advertisers finding their way into every nook and cranny of their lives, but the one medium that we seem to view as a welcome intrusion is the elevator screen.
It is the perfect distraction from that awkward feeling you get when you share space with people you don't know. And because it acts as a kind of stress reliever, the message on screen is much more likely to make a positive impression.
Canadian elevator communication and advertising firm Vertical Impression has built Canada's largest national network of residential elevator screens. Headquartered in Edmonton, it has a team in Toronto as well as staff in Vancouver, Calgary and Montreal. Unlike its single-market or commercial-property-focused competitors, Vertical Impression has screens in buildings located in Edmonton, Calgary, Vancouver, Victoria, Greater Toronto and Montreal, with more cities on the way. With 80% of their screen portfolio in residential buildings, they are uniquely suited to serve advertisers throughout the pandemic by connecting with Canadians close to home.
It is also the first elevator advertising platform that utilizes artificial intelligence to allow brands and property managers to gather anonymous elevator rider and screen engagement data.
Leveraging this capability, Vertical Impression has just released Canada's most comprehensive survey of residential and commercial office tower elevator traffic. Findings show that residential tower elevator traffic is at 91% pre-COVID levels in Calgary and Edmonton and 80-78% in Vancouver and Toronto while commercial traffic throughout the country remains at only 20-25% of historical levels.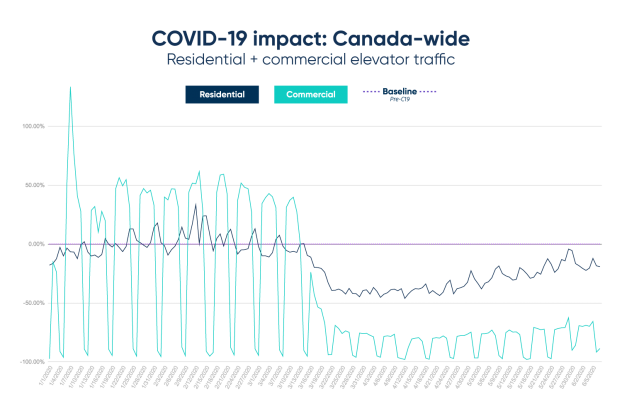 Traffic data from Vertical Impression's Canadian network
Over 13 million data points were gathered from residential and commercial buildings and analyzed by the company's data analysts and growth team. Each screen gathers anonymous traffic data in each building elevator to help advertisers understand their true audience reach, as well as help the building managers understand elevator usage.
With the good weather and the opening of bars and restaurants in many cities, residential traffic shows consistent growth across Canada.
"While COVID-19 restrictions remain in place, many Canadians are clearly taking advantage of the summer," said Nicolette Leonardis, VP and co-founder. "Advertisers looking to connect with urban-based Canadians are now in a great position to take advantage of this return to regular traffic levels. Many organizations are seeing the value in being the first in their market to return their advertising and marketing operations to normal."
Reliable traffic makes residential elevator advertising an effective platform for advertisers, but there is also the advantage of speed. For example, during the lockdown it was extremely easy for brands to keep pace with rapid changes in pandemic protocols and change their messaging across Vertical Impression's entire network in minutes.
Leonardis co-founded the company in 2014 with CEO Fouad El-Masri, originally operating under the name 'Visio Media'. It was relaunched under its new, more descriptively accurate brand name Vertical Impression in February of this year. Says El-Masri, "It's all about delivering a smarter service to building managers and elevator riders. By providing traffic data to our building partners and advertisers, we can be much more transparent about the volume of people travelling through the buildings."
Vertical's lock on AI-enabled screens and their potential to deliver advertisers direct contact with a captive DOOH audience creates a timely opportunity and solution for brands wishing to literally reach Canadians where they live. Learn more at verticalimpression.com.