Pattison expands programmatic prowess with Hivestack
The OOH provider has built its own middleware technology allowing it to work with multiple exchanges, which VP Cam Milne says is imperative for buyers.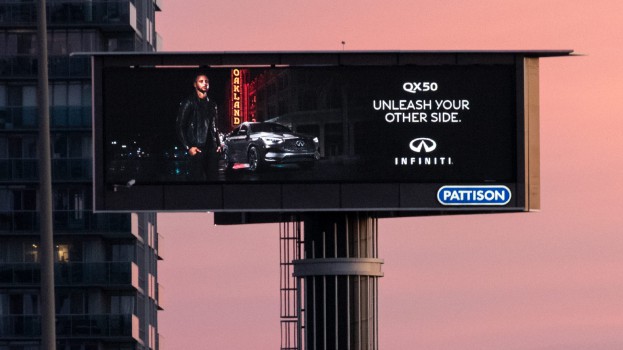 OOH provider Pattison Outdoor has signed an agreement with adtech company Hivestack to sell its digital inventory on Hivestack's Supply-Side platform. This means that buyers purchasing media through Hivestack will now have access to Pattison's 1,600 DOOH screens, which the company says generates an estimated 4.8 billion monthly impressions.
The partnership will also allow Pattison to drive more programmatic revenue.
Cam Milne, VP and GM of Pattison, tells MiC that it's in Pattison's best interest to partner with as many SSP providers as possible – hence, on top of its new Hivestack partnership, it's also a partner of Vistar. "Agencies, from their standpoint, will partner with whichever [SSP] they feel has the best value for them and their customers, and we don't want to get in the way."
Internally, he says, Pattison had an advantage because it had the tech team to develop its own "middleware" which allowed it to work with multiple exchanges, which he says is unique for the company.
When it comes to Hivestack in particular, Milne says the partnerships it has with agencies such as Kinetic and Cossette Media make it a very valuable partner. "It enhances Kinetic [and Cossette's] offering in the marketplace and opens up our relationship to new partners."
Milne says rather than focusing on trying to convince buyers to acquire media through a certain method, his goal is to ensure that Pattison's inventory is as widely available as possible. "It's imperative for us to look for other partnerships and exchanges that will broaden the scope of where Pattison is purchased."
Although many in the OOH industry have signalled that the pandemic has only reinforced the power of digital OOH – due to how quickly buys can be executed and how readily one can swap out creative – Milne takes a more balanced view. He emphasizes that Pattison is committed to digital growth – its future large format installations will all be digital, he says – but that static will still have its place.
"We've actually done very well with our static inventory," he says, adding that its static inventory is geo-fenced for audience measurement just the same as its digital boards are. "While we're always focused on agencies and national clients, local still makes up a very big part of out-of-home." Local advertisers, he says, tend to gravitate toward static OOH because of the areas they cover and the lower cost. "People will still say, 'I want that spot, and I want to own it,' which is what you get with static."