Narcity teams with Bonsai for in-site shopping
Readers can shop for thousands of Canadian-made products within the millennial media brand's sites.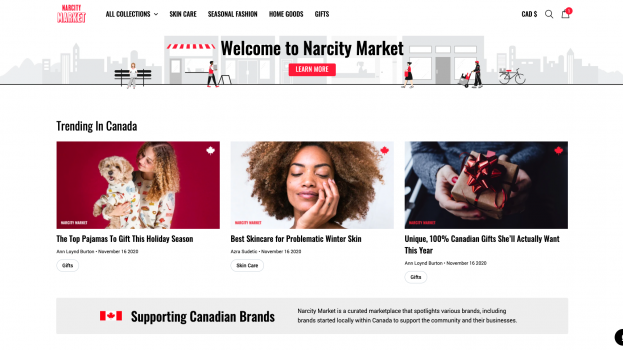 The Gen Z and millennial-focused publisher Narcity Media launched Narcity Market on Tuesday, an online destination that kicks off a program that will allow readers to buy products directly from merchants within its sites.
The virtual shopping experience was created in partnership with Bonsai, an e-commerce platform used by publishers and retailers across North America and Europe.
The Bonsai platform allows users to purchase products without leaving Narcity's sites – Narcity.com and MTLBlog.com. It goes beyond typical affiliate deals (which often require readers to navigate away from publishers' sites) and allows merchants to sell directly to Narcity readers through curated e-commerce shops and native editorial integration.
Narcity Market is designed to showcase Canadian-made products. At launch, the online bazaar features more than 120 Canadian brands and approximately 10,000 products in fashion, skincare and cosmetics and home goods. Brands include Health Hut, Kollar Clothing, Michi, The Latest Scoop, Rooney, Drake General Store and Heelboy.
In its next phase, the partnership will introduce widgets that will allow readers to shop within any page of Narcity's participating sites, mirroring similar programs Bonsai has run with Complex and BuzzFeed.
To drive readers to the market, a message is being sent out to Narcity Canada's existing email list. Display ads will appear on the sites, some using Bonsai's in-article commerce functionality. The project will also be promoted via Narcity's social channels with paid ads on Facebook and Instagram.
Founded in 2013, Narcity Media covers local news and trends across North America. The brand's sites attract 23 million readers each month and its social channels reach five million people daily. It is headquartered in Toronto, with offices in Montréal, Vancouver, and South Carolina.