Quebecor Out-of-Home launches virtual tours
The new platform tours neighbourhoods and provides local demographics for out-of-towners.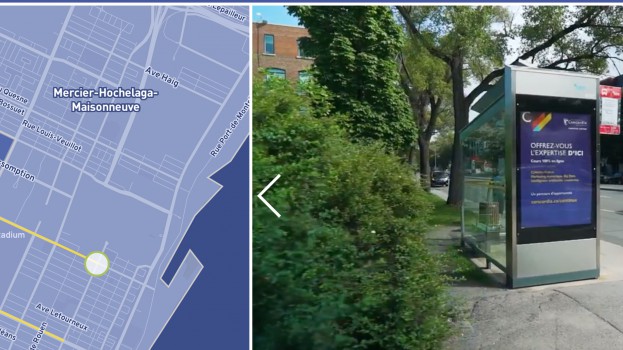 By Brieanna Charlebois
Quebecor Out-Of-Home is taking its tours virtual, letting advertisers explore its Montreal street furniture inventory safely with an interactive online platform.
Through an online portal, advertisers visit Montreal boroughs, learn about the urban environment, demographics and draw inspiration from past installations in static and digital transit shelters and marquees.
Prior to COVID-19, in-person street level tours were commonplace for the company. Out of town advertisers and agencies often visited for a two-day, expense-paid visit to Montreal for a guided tour of the city and Quebecor furniture locations.
But, when the pandemic hit Canada, travel to the city declined, work outings shifted online and Quebecor was forced to adapt.
"The purpose of the [in-person] tours was to show them how the furniture is positioned throughout the city's residential neighbourhoods," said Marc-André Ladouceur, director of marketing and business development. "We wanted to replicate that feeling of visiting Montreal and seeing the product, but on a digital platform."
Quebecor's street furniture network in Montreal includes 142 digital screens and more than 4,000 standard faces across Quebec.
Though COVID-19 presented challenges for the company, Ladouceur said Quebecor's executives believe the company is actually better positioned within the market than it was previously.
"The silver lining, both for Quebecor and for our advertisers, is that people are spending more time closer to home and in their own neighbourhoods, and that's where our out-of-home furniture is actually located," giving the company an edge over their competitors who have capitalized on the city's high-traffic areas.
The digital tours will be available online until the end of 2021.