CTV's doctors are on top: Numeris
The Good Doctor and Grey's Anatomy lead TV nationally, and En direct de l'univers tops the chart among French-language shows in Quebec.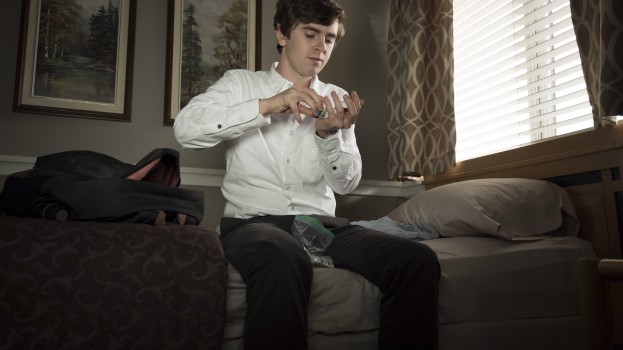 After its season debut topped Numeris' national English-language TV rankings last week, The Good Doctor kept its top spot for the week of Nov. 9 – 15.
CTV's The Good Doctor attracted 2.53 million viewers (2+) on Monday, with Grey's Anatomy coming close behind with 2.30 million viewers on Thursday. CTV programming dominated the top five nationwide as The Masked Singer, Station 19 and Young Sheldon led their time slots as well.
En direct de l'univers gained viewers this week and leapt to the top of the Quebec Francophone ratings with 1.29 million viewers on Saturday after reaching 1.04 million last week. It leads a group of top-five regulars who all charted with their usual one million-plus audiences.
After performing so well last week, single-night news broadcasts slid down the ratings in the English markets. The usual cadre of weekly winners (Young Sheldon, Station 19, The Masked Singer) performed well in most markets, as is usual.
Notably, in Edmonton, back-to-back episodes of S.W.A.T. placed the show in the the top-five among single-night programs.
Canada (Anglophone)
1. The Good Doctor on CTV Monday at 10 p.m.: 2.53 million viewers
2. Grey's Anatomy on CTV Thursday at 9 p.m.: 2.30 million viewers
3. The Masked Singer on CTV Wednesday at 8 p.m.: 1.92 million viewers
4. Station 19 on CTV Thursday at 7 p.m.: 1.80 million viewers
5. Young Sheldon on CTV Thursday at 8 p.m.: 1.70 million viewers
Quebec (Francophone)
1. En direct de l'univers on SRC Saturday at 7 p.m.: 1.29 million viewers
2. Tout la vie on SRC Tuesday at 10 p.m.: 1.17 million viewers
3. Discussions avec mes parents on SRC Monday at 7:30 p.m.: 1.14 million viewers
4. Tout le monde en parle (en direct) on SRC Sunday at 8 p.m.: 1.13 million viewers
5. 5e rang on SRC Tuesday at 9 p.m.: 1.08 million viewers
Montreal (Anglophone)
1. The Good Doctor on CTV Monday at 10 p.m.: 92,000 viewers
2. CTV Evening News Weekend on CTV Saturday at 6 p.m.: 69,000 viewers
3. Station 19 on CTV Thursday at 7 p.m.: 66,000 viewers
4. Grey's Anatomy on CTV Thursday at 9 p.m.: 65,000 viewers
5. Young Sheldon on CTV Thursday at 8 p.m.: 64,000 viewers
Toronto/Hamilton
1. Grey's Anatomy on CTV Thursday at 9 p.m.: 562,000 viewers
2. The Good Doctor on CTV Monday at 10 p.m.: 531,000 viewers
3. The Masked Singer on CTV Wednesday at 8 p.m.: 419,000 viewers
4. This Is Us on CTV Tuesday at 9 p.m.: 356,000 viewers
5. Young Sheldon on CTV Thursday at 8 p.m.: 338,000 viewers
Edmonton
1. The Good Doctor on CTV Monday at 10 p.m.: 86,000 viewers
2. S.W.A.T. on CTV Wednesday at 7 p.m.: 86,000 viewers
3. Star Trek Discovery CTV Sci-Fi+ at Thursday at 9 p.m.: 79,000 viewers
4. The Masked Singer on CTV Wednesday at 9 p.m.: 78,000 viewers
5. S.W.A.T. on CTV Wednesday at 8 p.m.: 77,000 viewers
Calgary
1. The Good Doctor on CTV Monday at 8 p.m.: 117,000 viewers
2. Station 19 on CTV Thursday at 7 p.m.: 116,000 viewers
3. Grey's Anatomy on CTV Thursday at 9 p.m.: 104,000 viewers
4. The Masked Singer on CTV Wednesday at 9 p.m.: 93,000 viewers
5. Chicago Med on CityTV Wednesday at 9 p.m.: 78,000 viewers
Vancouver/Victoria
1. The Masked Singer on CTV Wednesday at 8 p.m.: 251,000 viewers
2. 60 Minutes on Global Sunday at 7 p.m.: 232,000 viewers
3. The Good Doctor on CTV Monday at 10 p.m.: 187,000 viewers
4. NCIS: New Orleans on Global Sunday at 9 p.m.: 180,000 viewers
5. NCIS: Los Angeles on Global Sunday at 8 p.m.: 180,000 viewers