Branded Cities to re-develop OOH at Rogers Tower
The deal adds more than 3,000 square feet of digital signage to the company's portfolio in the country's busiest intersection.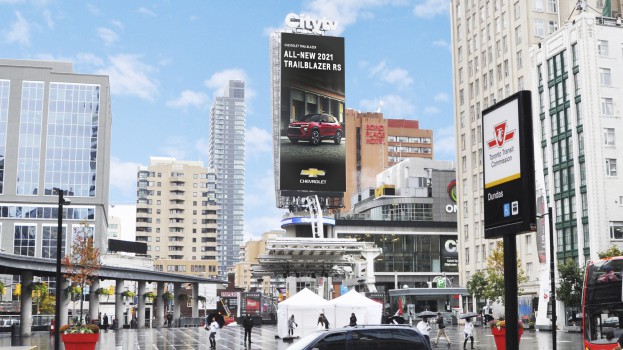 Rogers Sports & Media has entered into a new long term agreement with OOH media company Branded Cities for the re-development of the OOH assets on Rogers' Tower at Yonge and Dundas Square in Toronto.
The deal adds more than 3,000 square feet of digital signage to Branded Cities' portfolio, joining 50,000 square feet of media space it already offers in Younge Dundas Square, which offers one of the largest OOH audiences in the country. Under non-pandemic circumstances, its extensive variety of dining, entertainment and shopping establishments attracted more than 146,200 daily residents, tourists and local office workers. Branded cities also offers static and digital media now at CF Toronto Eaton Centre (which hosts the massive 8,454 square foot TEC Tower), 10 Dundas Street East and the Atrium on Bay.
Rogers Tower, located on the square's east side at 33 Dundas St. East, houses the company's Citytv and OMNI television stations, and already hosts prominent signage. As part of the project, Branded Cities will install a 34-foot by 90-foot high digital display, which will offer 10-second ad spots over a three minute loop. Being added to Branded Cities' Younge and Dundas network, displays on Rogers Tower will be able to be part of dynamic digital capabilities offered throughout the square, such as syncing campaigns in real time.
"The addition of this asset will add tremendous value to the extensive opportunities available at Yonge & Dundas, and we look forward to working closely with Branded Cities, their clients, and our iconic brands to bring the square to life," Alan Dark, SVP of revenue at Rogers Sports & Media, said in a Wednesday press release.
Branded Cities tells MiC that there will be no new hires as a result of this agreement, as the company already has an existing team in place that currently sells assets at Yonge & Dundas. They would not confirm the length of the agreement, citing confidentiality reasons.