The Disruptors: Michael Hollett on what's Next in publishing
The co-founder of Now and owner of NXNE shares what opportunities exist in his new magazine that's like "a doorway into a digital world for advertisers."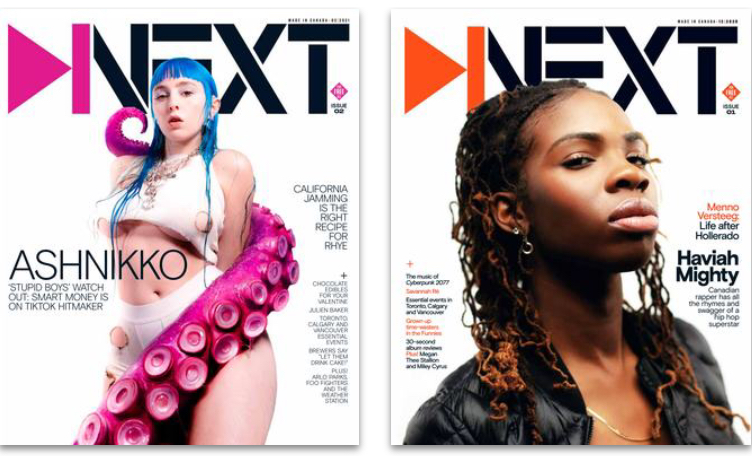 After a five-year hiatus from the game, editor and publisher Michael Hollett is back at it.
It's fitting that the co-founder of Now would return with a new mag on the eve of his former paper's 30th anniversary, considering his M.O. is to shake the industry out of its old world mindset, which he once shared.
Hollett and his team just released the second issue of Next, a decidely more upbeat magazine than Now in that it's purposely void of any political agenda and only contains a stream of positive entertainment news and reviews. "We joke that we're like Vice for nice people," he says.
"We're speaking to the most bullied generation in history [Gen Z]. So we are consciously creating an immediate environment [that's safe and positive]," he adds. "When I started Now, information was hard to find. Well, today we're inundated with information, so yes, we know there's a lot of bad stuff, but what's the good stuff?"
But its editorial voice is not even the most disruptive facet of Next. What makes the magazine more appealing to both readers and consumers lies in a matrix of barcodes that occupy almost every one of its 60-odd pages.
Articles, big and small, on fashion, music, gaming and more each contain one or more QR codes, a tool that was once heralded by marketers in the early 2010s but then cast aside after dismal adoption. But then something changed. Smartphones got smarter with their cameras becoming code readers, while the pandemic ushered in more opportunities for the tech to be used for contactless experiences as new health concerns emerged. Suddenly, QR codes became 2020′s comeback kid.
CARD spoke with Hollett to get the skinny on how both his editorial and marketing team are creating a new magazine for the new age, and how advertisers can get in on the action.
Why QR codes, of all things? 
I was part of the first phase when publishers tried to bring QR codes into print. And it didn't work because the phones weren't good enough. So the QR codes had to be so big, and they would actually kill the graphic. And there was no universal reader for QR codes. But now your camera functions as a QR code reader and every kid knows that. There's no reason it won't continue to grow, they're now even being used for contactless experiences with menus and bills at restaurants.
We're dealing with people who have their attention split. They're used to experiencing life that way, which is fine, we just have to speak to that now. I've actually seen ads that's say 'Put your phone away and read our magazine.' But that's crazy. Of course, you should read your magazine with your phone adjacent. The idea that there's somehow a division between print and digital is just really old thinking. You're not being fluid.
Similar reinventions happened with movie theaters in the '80s. Video was supposed to kill off the movie theatre, which had become very commonplace and the experience wasn't that great. Theatre owners then doubled-down on the movie-going experience and they highlighted things that made it great and that you couldn't replicate at home. And we're doing similar things, in the sense that we're really doubling down on what makes print great.
I think a lot of publishers, as they've cut back and reduced spending on art and everything else, and as they're cramming information [into a page], what's happened is that print has just become the package. And if that's all print is, then you're going to lose the fight every time. So we're just completely stepping away from that and we're not giving up on young people. We're making a magazine that engages them with QR codes. It's tactile and we're all about interactivity.
Tell us about what you've done so far (and what you're looking to do next) with advertisers using these codes.
The best example would be Warner, which recorded an entire interview that went deeper on things that appeared in their advertising. When you used the QR code, artists in the ad expanded on it and spoke directly to the Next reader. It created an intimacy.
Universal Music also had links to Spotify and Apple Music of the 20 artists they featured in their ads in Next. It might seem very basic, but it's light years beyond the experience of most print advertising that you'll get.
Bolle Sunglasses was also in the first issue and they had an augmented reality app so that you when you looked at the sunglasses in the ad, you could hold your phone over the QR code, which then took you to Instagram so that you could view everything as if you had those sunglasses on. So it's a pretty vivid way to show your products.
And now we're talking with a major brewery about creating more of that type of content where the door opens through the magazine. That's a way to put it, in a sense. Next is a print doorway into a digital world for our advertisers, where they can move back and forth.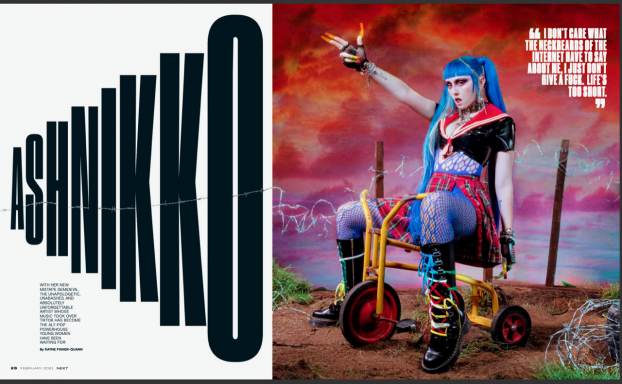 We have great resources in terms of recording studio and a video studio. So we're in a position to help create branded original content that we can drive to through the print magazine. And online too, where we're developing a robust online presence, especially social media. We have the most basic linking, but then we can get down to creating content in terms of a podcast or a virtual performance.
I also own NXNE, which has all been about curating what's next, so we were doing that even before we had a magazine that was called that. The person who's on the cover of the first issue of Next is an artist that I had curated for an advertiser for NXNE, for the Ontario lottery corporation, on the promise that she would be a big artist. And so we're able to do live events and digital events, as we have our own studios. The whole 360 notion is what we're all about.
What about making pages shoppable, is that an option?
Yes, our next issue will be launching with Sunrise Records, which will have a click-through to buy all the music we're talking about in the magazine. And we even do that within our editorial content. We just do it because we want a great reader experience, so in our fashion section, for example, we will link to products and brands that we don't even have a relationship with yet. But that's a place where we can really work with advertisers to make the editorial link go their retail sites, in addition to the advertising. And that will also be a benefit to the readers.
We're already sort of [conditioning] and getting our readers used to those interactions, because literally every article is already linked to a purchase page or a YouTube video of someone using the product. We have an environment where it's like popcorn, there are QR codes all over the pages. It's not like you're flipping through The Globe & Mail, for example, and there's one isolated QR code and you wonder what that's doing there. This is something that our readers are already looking for and they're getting cool experiences from advertisers.
How do you track the number of people actually using the codes?
We're still working on the tracking of this. Basically, what it does is it just kicks people to websites, so advertisers have to track it. It doesn't go through our portal, unfortunately. So that's something we're actually working on. We can track contests though. Our first contest for Neil's Brothers got 1000s of entries, which is pretty cool for a new magazine.
What about circulation, how do you distribute an unknown magazine during a time when people are sheltering in place?
We had 98% pick up on the first issue across Toronto, Vancouver and Calgary. And our COVID distribution system is through home delivery through restaurants, acoholic stores and retailers. So we will deliver copies to a restaurant in Vancouver and they then move 300 copies with his takeout orders. We have a chicken outlet in Vancouver that goes through 5000 magazines.
So we're putting them into orders. Some places people request it and some [retailers or restaurants] just put them in as an added bonus for customers. We had to obviously do a pretty big pivot to find a way to get a magazine out when no one can go out. We had to go to each restaurant individually, with about 150 locations across the three markets. We have 30,000 issues delivered in Toronto, and 10,000 in Vancouver and 10,000 Calgary. We're creating a connection with early adopter readers right now, the kind of people who will telling their friends about Next as we open up.
Tell us a bit more about the content and why you believe it's appealing to the next gen who may not have grown up reading magazines. 
We have a section in the back called 'The Funny,' where we've actually taken things like connect-the-dots and coloring content and we've created an adult version. It stems from the premise that I'm operating from: if we go after 20-year-old readers, they don't have the nostalgic connection with print that even 30-year-olds do. Their experience of print is cereal, boxes, and posters. So that was our starting point for [some of the content like The Funny section]. We're getting a great response. It's interactive. And, again, it's doing the things that only print can do. You can do things with your phone, but you can't get your crayons out and actually draw.
It speaks to a nostalgia. We're trying to evoke things that remind them of when they did connect with print, when they were probably nine and they were doing a Maze. We're trying to push the subliminal buttons to remind them when they did connect with print and what they liked about it. Was it the interactivity? Was it the brightness and the colourfullness?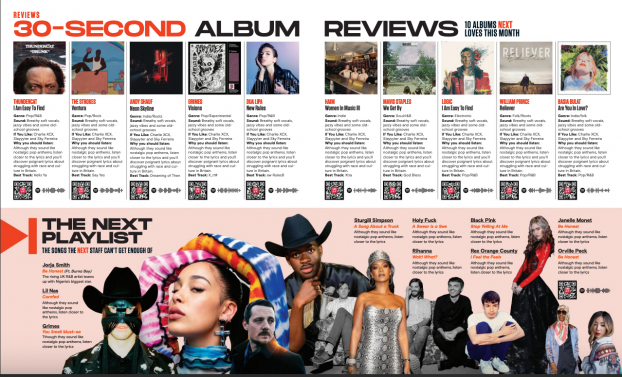 Also, the bulk of our record reviews are in a section called the "30-second Album." And it's meant to be read in 30 seconds, because now even the experience of buying music is so different.  At Now, we used to create half page articles for reviews, because someone was motivated to get on the bus, take two transfers on the subway to go downtown to buy music. But now it can be instantly purchased. So our magazine is set up in a way that speaks to that; as you're reading about an artist, if you're interested, you just sweep your phone over that review and it'll either take you to Spotify or Apple Music. And you'll hear it in real-time as you're reading about it. And you can create a playlist as you read. There's really no magazine in the world that does this.
My experience with Now in its heyday was that you get a great core young readership and they become the Saturn, while the rest of us are the rings around that. [Slightly older readers] will read the magazine too to see what's new and what's exciting [the younger generation]. So there's an authentic relationship with a young readership, which can then resonate up to the 30-year-olds.