Blue Ant Media to launch BBC First in Canada
The addition of BBC shows to HIFI's most popular broadcasts is expected to broaden the audience for the rebranded channel.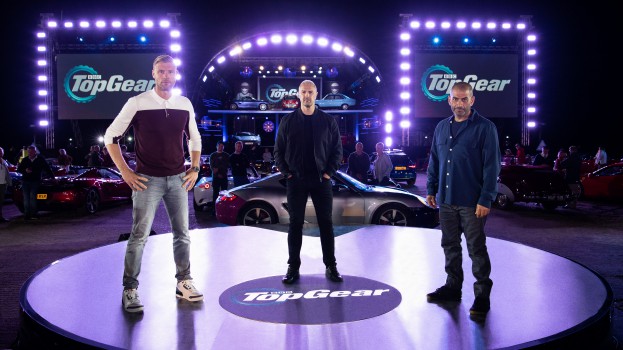 Blue Ant Media is launching BBC First in Canada as part of an expansion of its existing partnership with BBC Studios.
The ad-supported channel, which will go live on March 16, will feature premium scripted and factual original content from BBC. Titles included as part of the launch are scripted series Death in Paradise, Father Brown and The Office, as well as unscripted series Top Gear (pictured) and The Graham Norton Show.
BBC First will replace Blue Ant's HIFI Channel and is the second joint venture from BBC Studios and the Toronto-based broadcaster, producer and distributor. The two companies launched the channel BBC Earth in 2017. BBC First will be available in free preview for its first month.
"Canadians love British television, and Blue Ant Media's expanded partnership with BBC Studios underpins our commitment to invest in high-quality, distinctive programs we know our audiences will enjoy," said Jamie Schouela, president, global channels and media at Blue Ant Media, in a statement.
"The launch of BBC First continues our relationship with Blue Ant Media, a great partnership that has led to much success for BBC Earth in Canada," said Rebecca Glashow, president, BBC Studios, Americas. "They intuitively understand the BBC brand, in-market needs and how to connect with audiences."
Blue Ant first acquired HIFI in 2012, part of a deal that brought several channels over from previous owner High Fidelity HDTV. Initially meant to focus on art and music programming, the schedule has since moved its focus to movies and general interest entertainment programming. According to Blue Ant's website, HIFI's average viewer is 43 years old and skewed male, with men between 25 and 54 being its key demo.
In a follow-up email to MiC, Schouela said HIFI reached 4.2 million people in Canada last fall. Its most popular broadcasts, namely The Graham Norton Show and Hollywood movies, will remain through the rebrand, in addition to BBC's comedies, dramas and factual series; though he didn't disclose any expectations of audience size, he said the addition of BBC's content would broaden and grow the channel's audience.
Schouela added that BBC First would continue to target 25- to 54-year-olds. Though some of the programming will skew slightly towards a female target, overall, BBC First's key demo will be gender-balanced.
BBC programming was previously available to Canadian cable subscribers via Corus Entertainment specialty channel BBC Canada, which shuttered on Jan. 1. Corus owned 80% of the channel, with BBC holding the other 20%.
The British pubcaster also recently launched a factual-focused streaming service in Canada this year with BBC Selects. The subscription-based service features unscripted content focused on culture and politics.
Blue Ant Media struck another international partnership in recent weeks with producer Dame Julie Christie. The company sold the majority of its stake in New Zealand factual prodco NHNZ to Christie, with the company rebranding as NHNZ Worldwide. Blue Ant holds a minority stake in the company and retains the rights to the company's existing catalogue.
With files from Josh Kolm. A version of this story originally appeared on Playback.