How PinkCherry gets impact in regulated media
The online retailer self-manages media to navigate the complexities of the sexual health and wellness market.
In the wake of successful, high-impact campaigns, PinkCherry, an online retailer of adult novelty products for sexual health and wellness, continues to examine how best to reach its targeted audience, changing channels from TV to radio to complement OOH for its new campaign in Canada and the U.S.
PinkCherry has managed its media booking in-house from the very beginning, which, at first blush, may come across as counterintuitive when it comes to comparing channel costs, reach and impact. However, Daniel Freedman, CEO of PinkCherry, notes that while the sexual health category continues to grow and mature, managing media for brands and products that are considered controversial requires a deep level of industry knowledge.
"The media landscape is still heavily regulated. It's important for the brand to be building these types of media relationships directly," Freedman says. "There is a lot of dialog between PinkCherry and the media outlets to work together to find ways we can bring this product to the mass market and it's important for that communication to happen directly with the media outlets."
So, while TV and OOH were the channels of choice for the online retailer's recent like-minded awareness campaign earlier this year – with TV delivering solid results – Freedman says the cost of a national TV campaign, and the effectiveness of an OOH/radio mix led to them leaving it out of the media mix this time around.
"The audience we're focusing on in general are adults, aged 28-55, both singles and couples," says Matt Litzinger, founder, president and CCO of PinkCherry's Toronto-based creative AOR, The Local Collective. While his agency focuses on creative strategy, they also advise PinkCherry on media opportunities. "We try to be as inclusive as possible and offer an open, non-judgmental experience. The flexibility of radio and the targeting of locations in OOH seemed to lead to a very accurate strategy from a reach standpoint."
The new OOH- and radio-focused campaign spans across Canada and the U.S. and is timed around tax season, reminding audiences that there are more ways to invest in yourself and release stress, besides financial contribution.
The campaign consists of tongue-and-cheek creative around self-love and "investing" in your sexual well-being, "highjacking typical investment language allows us to leverage that conversation in a new, and cheeky way," Litzinger says.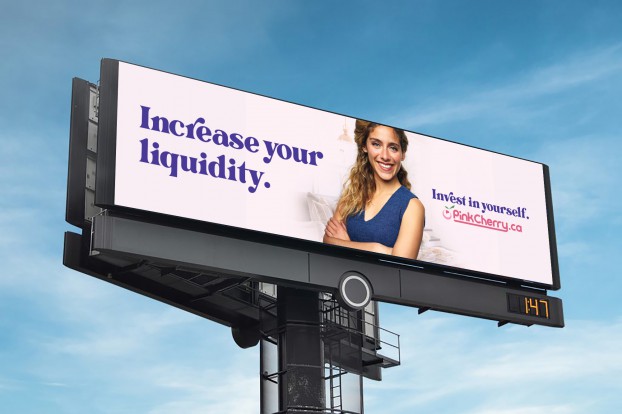 Demand continues to be high for sexual health and wellness products, says Freedman. "People are looking for outlets to release the stress and tension that we are all feeling right now. That also means there are competitors emerging into the marketplace quickly."
Meaning, that in addition to the pivot away from TV, a big part of the online retailer's ongoing strategy is ensuring the channel mix complements the high-impact nature of their OOH messaging.
They try to focus on "a communication messaging strategy that is eye-catching and incredibly memorable, allowing us to force a reaction without having to out-spend our competitors on share of voice," when it comes to media investment, says Litzinger.
OOH activations include billboards across Canada and the U.S. In Toronto specifically, the spend targeted both major highways (401 and QEW) and other high-traffic locations within the city. Radio spots hit the likes of CNN, Fox and The Howard Stern Show. The campaign started on Mar. 8 and runs until the end of June.
Radio spot: Mutual fun
Radio spot: Get investing