CBC launches new podcast reclaiming Indigenous history
Telling Our Twisted Histories seeks to educate a broad audience by exploring 11 words twisted by centuries of colonization.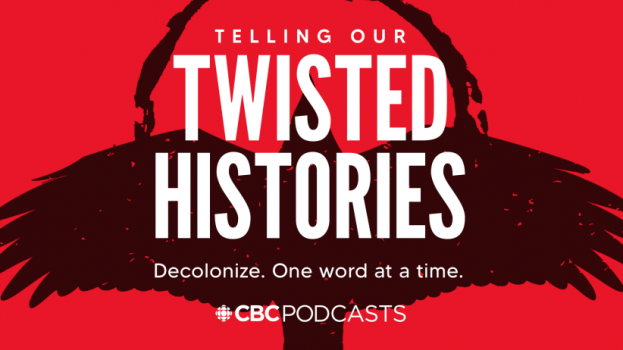 While most CBC podcasts are typically positioned with a particular target demographic (age, gender, lifestyle) in mind, the audience for its latest offering, Telling Our Twisted Histories, was measured differently.
Launched May 31, the new 11-episode series reclaims Indigenous history by exploring 11 words whose meanings have been twisted by centuries of colonization.
"This is a podcast with universal themes that are relevant across the country," says CBC series producer, Carrie Haber, explaining the demo. "We are providing a rich listening space for anyone who wants to learn more about Indigenous cultures. The podcast is an excellent teaching tool for people of all ages, to deepen understanding and respect between cultures, while taking another look at our shared history from people of First Nations, Inuit and Métis communities."
Series host, Kaniehti:io Horn (Letterkenny/Man in the High Castle) guides audiences through conversations with over 70 Indigenous people from 15 communities whose lands now make up Quebec, New Brunswick and Labrador. "Savage. Reserve. Indian Time. Words connect us, but also have the power to wound, erase and replace us," says Kaniehti:io Horn in a statement. "As Indigenous people, we are used to our stories getting a little twisted. This podcast is all about exploring some of these words, with humour and truth, so that we all better understand how they impact us to this day."
According to Haber, "listeners will be moved, surprised, sometimes shaken in their beliefs, and will certainly appreciate the desire of our participants to be heard and understood."
Preroll ads are available for advertisers, but there are no sponsorships associated around the podcast.
CBC podcasts reported more than 158 million downloads last year for its top series, and features 140 ad-supported series, including all of our top 10 downloaded podcasts, which include Front Burner, Someone Knows Something and Uncover.
CBC listeners are typically older than most podcast listeners (58% are between the age of 25-54), are well-educated (53% have a Bachelor's Degree or more) and have a high household income (34% are more likely than the general population to have a household income over $125,000 per year).
The first two episodes/words – "Discovery" and "Reserve" – are available now and new episodes will be released weekly on Mondays until Aug. 2.