How Popeyes is hyping chicken nuggets in Canada
Compared to the big, buzzy launch of its chicken sandwich, the QSR is focusing more on social and specialty TV.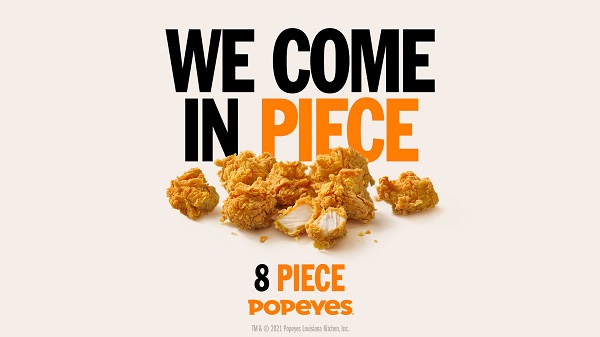 To bring its first chicken nuggets to the Canadian market, Popeyes is leading with social, followed by a national TV buy, to take a more targeted approach with what it hopes to be its next buzzy menu addition.
Last fall, the RBI-operated QSR brought its Chicken Sandwich to market with a full Yonge Dundas Square takeover and a marketing play on Twitter that played off the fact that Canadian consumers had been peppering the brand with questions about when the sandwich would be available in Canada after it had kicked off the so-called "chicken sandwich wars" in the U.S.
But the QSR's nuggets are launching in tandem with the U.S. this time around, and Rob Manuel, general manager of Popeyes Canada, says it has learned a lot about its fanbase in Canada, which informed the product launch. For example, while U.S. customers are still more driven by the bone-in chicken they have almost five decades of history with, Canadians are more predisposed to boneless varieties, Manuel says.
The learnings are also resulting in a slightly different media plan from last fall. Manuel says there's not as much OOH as there was for the sandwich launch, taking a more targeted approach instead of mass reach.
Manuel tells MiC that Popeyes is doing more social in the early stages of bringing the sandwich to market, followed by a full TV campaign, leaning into a bigger specialty TV buy. Part of that buy is meant to reach 18- to 34-year-old foodies, who tend to count Popeyes as one of the few QSRs they have an affinity for.
But it's not just cooking shows that are getting the focus of the specialty-focused strategy.
"Live sports is always one of our key target demos we try to buy, which is not as optimal during summer months," he says. "But with the Olympics going on, it is something that is more top of mind this summer."
The buy includes Sportsnet 360, Sportsnet One, Sportsnet, TSN, TSN 2 and also CBC National Network – Olympic programming.
The creative – which will also appear in pre-roll, digital ads and restaurant merchandising – references the "chicken wars" that Popeye's started – but more specifically, ending them, with a "we come in piece" messaging a play on words referencing the eight-piece box the nuggets come in.
"Canadians are very aware of the chicken sandwich wars, despite coming out of the U.S.," Manuel says, and with the Popeyes launch in September of last year, there was a lot of online discussion around the concept, in which big-name QSRs like McDonald's, Wendy's and Taco Bell announcing new chicken items.
Adapted from U.S. creative, the ad buy covers the five provinces where the QSR operates, though Manuel says it is concentrated around the GTA, where there are roughly 200 Popeyes locations.
Popeyes' U.S. AOR Gut handled creative in the U.S., with Canadian agency Bob's Your Uncle localizing the campaign and media buys. Craft PR is supporting with media and influencer strategy.