Pinterest makes influencer content more shoppable
The ability to more easily establish and disclose brand partnerships opens up more opportunities for advertisers on the platform.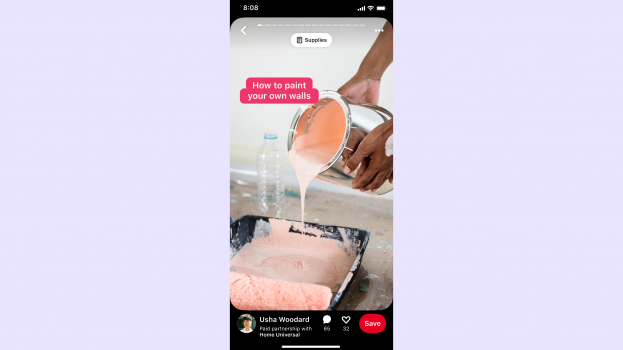 Pinterest has launched a new advertising tool that allows content creators on the platform to disclose their paid partnerships – and make it easier to create shoppable content for brand partners.
The new feature allows creators of branded content to add brands to their Idea Pins and, with brand approval, add a Paid Partnership label to the Pin. This makes it easier to directly link to products in a way that is in-line with disclosure guidelines that exist in many markets.
These latest updates are meant to make influencer-created content more actionable and shoppable. While it's geared towards helping influencers more easily earn commission and revenue from brand partnerships, it also opens up more opportunities for advertisers.
Creators such as Olive + Brown, Fall for DIY and UnconventionalSouthernBelle have already been making shoppable content during testing, and Pinterest internal data shows that it has increased propensity to shop, with users 89% more likely to exhibit shopping intent on products tagged in Idea Pins than on standalone Product Pins.
Caroline Bergeron, SVP of digital at Horizon Media, confirms the new tool is very useful to her agency, which is growing its relationships with influencers.
"We are supportive of platforms that continue to develop capabilities that make brand collaboration with creators seamless and more integrated, while maintaining clear distinction between paid and non-paid content."
The paid partnerships tool is now live for select creators in Canada, the U.S., U.K., Australia, Ireland, New Zealand, France, Spain, Italy Germany, Switzerland, Austria, Sweden, Brazil, Argentina, Mexico, Chile, Colombia, and Peru.
In the U.S. and U.K., Pinterest is also launching an Idea Pins product tagging tool to all business accounts and will continue rolling out access over the coming months to international creators.