Polar Ice becomes official Canadian vodka of the Toronto Blue Jays
The vodka brand is focusing on retail and Rogers Centre activations to start the partnership, though more above-the-line activities are part of future plans.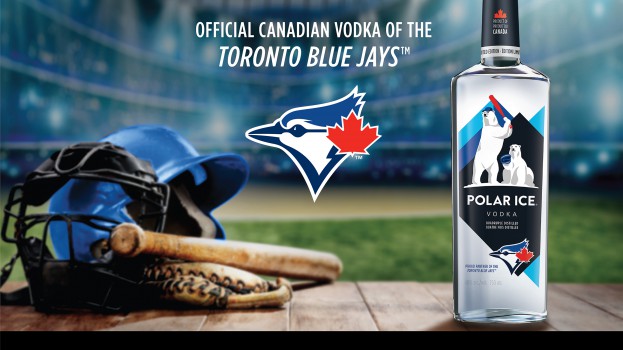 By Justin Crann
Viewers will be seeing a lot more of Polar Ice during Toronto Blue Jays games.
The Canadian vodka brand has struck a new, three-year partnership with the baseball franchise that enables it to build brand awareness in the team's home stadium, the Rogers Centre, through retail sales of the product at the arena and home plate visibility – and that's just the beginning, according to Aoife O'Reilly, senior brand manager for Polar Ice at parent company Pernod Ricard.
"Over the course of the partnership we're going to be building more integration as we, as a brand, see the Rogers Centre as an incredible opportunity for us to engage Blue Jays fans with our brand in a really meaningful way," she says.
The vodka brand doesn't have any TV or digital broadcast advertising or integration planned for the remainder of the current season, which is past the halfway point, but "that is something we'd like to see going forward," O'Reilly notes. "Right now, we're focusing on other aspects of the partnership and bringing it to life in retail in particular."
At the centre of that retail push is the new, limited-edition Polar Ice bottle, which features a baseball-themed design that sees the brand's polar bear mascots clad in baseball caps and one of them brandishing a bat. The Blue Jays' logo is also on the bottle. The brand will also offer giveaways of co-branded merchandise at retail and on-premise locations.
"What we're looking to do from a creative standpoint is leverage the polar bears to bring our partnership to life in a unique way to inspire consumers and add to their baseball collection," says O'Reilly.
The partnership is part of a larger strategy over the past several years, she says.
"We know within the standard vodka category, the made-in-Canada connection is important to our consumers," explains O'Reilly. "We've been finding opportunities to celebrate the spirit of Canadiana with our consumers, and this partnership is really going to allow us to take our national pride one step further. We have an opportunity via this partnership to engage a national fanbase from across the country and build an emotional connection through our shared experience of sport."