The Good Doctor returns on top: Numeris
Meanwhile, Chanteurs masqués continues to bring in big ratings among French viewers.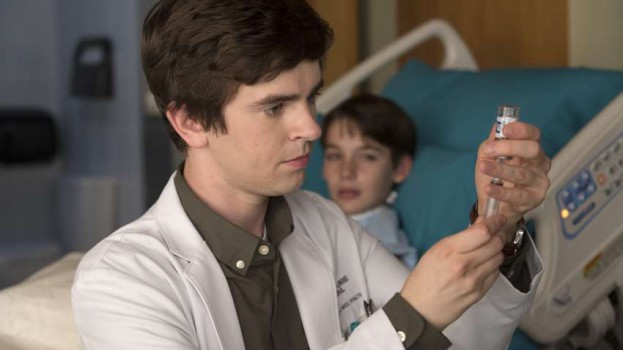 One of CTV's ratings darlings isn't showing any rust coming out of the offseason, according to Numeris data for the week of Sept. 27 to Oct. 3.
The season premiere of medical drama The Good Doctor, routinely one of the top-rated shows in Canada over the last year, drew in 1.882 million viewers nationally.
Previously-premiered shows 9-1-1, The Rookie and Survivor were also strong performers as their seasons continue, while the second episode of new NCIS spin-off NCIS: Hawai'i rounded out the top five.
In individual markets, Survivor took the top spots in Toronto/Hamilton and Vancouver/Victoria, while 9-1-1 was the highest-rated in Edmonton. Though outside the national top five, Grey's Anatomy was the top-rated show in Montreal, while FBI took the top spot in Calgary.
In Quebec, TVA's Masked Singer adaptation and dance show Revolution, as well as Radio-Canada comedy Discussions avec mes parents, continue to be top performers in the ratings among French programs.
National
1. The Good Doctor on CTV Monday at 10 p.m.: 1.882 million
2. 9-1-1 on Global Monday at 8 p.m.: 1.853 million
3. The Rookie on CTV Sunday at 10 p.m.: 1.78 million
4. Survivor on Global Wednesday at 8 p.m.: 1.73 million
5. NCIS: Hawai'i on Global Monday at 10 p.m.: 1.606 million
Quebec (Francophone)
1. Chanteurs masqués on TVA Sunday at 6:30 p.m.: 1.631 million
2. Revolution on TVA Sunday at 7:30 p.m.: 1.292 million
3. Discussions avec mes parents on SRC Monday at 7:30 p.m.: 1.275 million
4. Toute la vie on SRC Tuesday at 8 p.m.: 1.139 million
5. En direct de l'univers on SRC Saturday at 7 p.m.: 1.129 million
Toronto/Hamilton
1. Survivor on Global Wednesday at 8 p.m.: 454,000
2. The Good Doctor on CTV Monday at 10 p.m.: 396,000
3. The Rookie on CTV Sunday at 10 p.m.: 361,000
4. 9-1-1 on Global Monday at 8 p.m.: 352,000
5. Grey's Anatomy on CTV Thursday at 9 p.m.: 326,000
Montreal
1. Grey's Anatomy on CTV Thursday at 9 p.m.: 77,000
2. FBI: International on Global Tuesday at 9 p.m.: 75,000
3. 9-1-1 on Global Monday at 8 p.m.: 74,000
4. Station 19 on CTV Thursday at 8 p.m.: 72,000
5. FBI on Global Tuesday at 8 p.m.: 71,000
Calgary
1. FBI on Global Tuesday at 9 p.m.: 103,000
2. The Good Doctor on CTV Monday at 8 p.m.: 100,000
3. New Amsterdam on Global Tuesday at 8 p.m.: 96,000
4. The Masked Singer on CTV Wednesday at 9 p.m.: 89,000
5. Blue Bloods on CTV Friday at 8 p.m.: 84,000
Edmonton
1. 9-1-1 on Global Monday at 9 p.m.: 125,000
2. New Amsterdam on Global Tuesday at 8 p.m.: 99,000
3. NCIS: Hawai'i on Global Monday at 8 p.m.: 85,000
4. NCIS on Global Monday at 10 p.m.: 79,000
5. Survivor on Global Wednesday at 9 p.m.: 71,000
Vancouver/Victoria
1. Survivor on Global Wednesday at 8 p.m.: 206,000
2. NCIS on Global Monday at 9 p.m.: 176,000
3. Saturday Night Live on Global Saturday at 8:30 p.m.: 164,000
4. 60 Minutes on Global Sunday at 7 p.m: 163,000
5. 9-1-1 on Global Monday at 8 p.m.: 158,000