Kinder flies the flag for an accessible Halloween
The Ferrero confectionery is the latest sponsor to sign on with Treat Accessibly, which makes it easier for kids with disabilities to go trick-or-treating.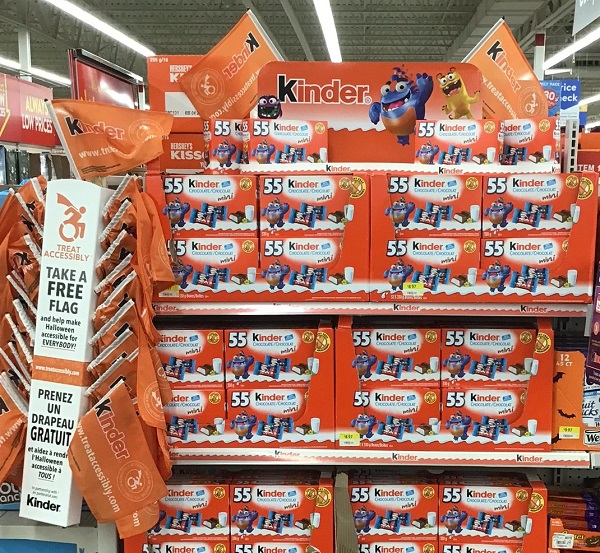 Kinder put accessibility front and centre leading into Halloween weekend, using its brand positioning around family moments and strength with in-store marketing to support what it hopes will become an annual Trick or Treat tradition.
The Ferrero confectionery brand teamed up with Treat Accessibly, a non-profit founded in 2017 to remove barriers for children with disabilities during Halloween. As part of the program, homeowners place a sign on their lawn at least a week before Halloween to let local families know that it will offer barrier-free trick-or-treating, be it through a barrier-free or at-grade door, or be giving candy out in the driveway. The goal of the grassroots movement is to have 400,000 homes participating in the program by 2025.
Real estate firm Re/Max is the original brand sponsor of the program. Residents can reach out to an agent at their local Re/Max office, who will deliver a free Treat Accessibly lawn sign featuring the Re/Max logo and branding for the agent or office.
Ferrero has now signed on as an additional sponsor, giving Canadians the option to instead pick up a free Treat Accessibly lawn flag at Kinder displays in select Sobeys stores in Ontario, Quebec and Atlantic Canada, giving an option to households who would prefer a different option, or where a lawn sign is logistically difficult, such as urban areas.
"As a brand that celebrates special family moments, where joy and happiness are a part of a child's growth, we wanted to learn more and set up a call," says Laura MacCarthy, marketing director for Kinder at Ferrero Canada, of discussions that began earlier this year.
"Accessible trick-or-treating isn't something that many people think about but once you do, it becomes so obvious and it's also something so simple to make happen," she says.
The team up was also promoted in-store with special Halloween-themed displays with Treat Accessibly toppers, side panels and tear pads in grocery stores nationwide. In its first year supporting the organization, Ferrero thought it was best to focus on POS including in-store displays, signage and the distribution of free Kinder Treat Accessibly lawn flags.
"It was important to draw visibility to the Treat Accessibly logo and website so that consumers could go learn more about what they could do personally to make their Halloween treat stations more accessible," MacCarthy says. "Given our focus and strength with in-store executions, we knew it would be important to the overall cause and something Treat Accessibly was looking for in the partnership."
As Kinder continues to support the organization in future years, she says it will look for new and fun ways to drive awareness to get more households on-board and spread the word and increase awareness of Treat Accessibly.
According to MacCarthy, Kinder had an excellent Halloween last year despite the category declining due to the pandemic.
This year, she says, it expects more Canadians to have participated with easing restrictions, and based on current estimates, she says it will be a growth year for the Halloween category and another great year for Kinder at Halloween.
Publicis led creative and PHD led media buying for digital and social elements promoting Kinder's involvement with the program, inviting as many households as possible to join the movement. Golin was behind PR and #PAID managed influencer outreach.