How will media be redefined in 2022?
Leaders from CMDC's board look ahead at the opportunities for evolution in a post-pandemic world.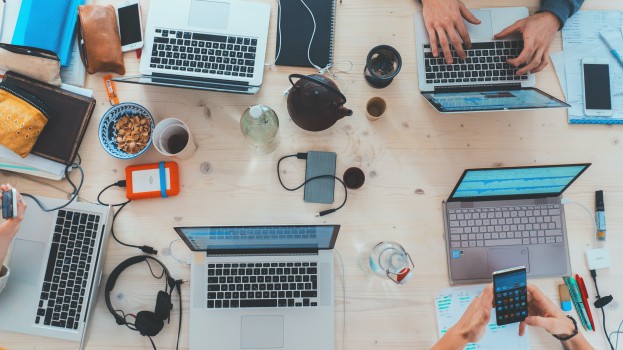 The end of another year inevitably means beginning to look ahead to what 2022 will throw at the industry, both in terms of challenges and opportunities. Some media leaders that make up the board and membership of the CMDC are choosing to look on the brighter side, and below, they offer their perspectives on how the role of media in its goal to inform, inspire and connect consumers and communities might evolve and thrive in the year ahead.
Christine Saunders, president, Starcom
We have all been re-defined by the work at home experience – how we work, how we shop and how we live.  All of those changes helped redefine the media landscape to become more on demand, more personal and to provide more meaningful experiences.  These will become the new measures of success, defined by consumption.
Noah Vardon, president, Havas Media Canada
There is an opportunity for an approach that calls for the use of "and" – where there is the scale of global platforms/networks AND a mix of trusted and relevant ecosystems of regional content that drives more relevance and personalization.
Samantha Kelley, VP, Touche!
In a post-pandemic world, everyone is adapting to new ways. The opportunity to challenge old ways has never been this palpable. The consumer has both hands on the wheel when it comes to the media channels, platforms and content they consume. Consumers are also becoming empowered to protect their personal information. Our media industry is mutating to respond to the new landscape. Moreover, purchase decisions are increasingly being made based on values and commercial purpose. Tomorrow's opportunities will lie in between the lines of off & online, will put focus on commonalities between likeminded consumers and companies and will be highly stimulating!
Luke Moore, VP, managing director, media, Fuse Create
On-demand! We now have two feet firmly planted in the on-demand media world and there is no turning back. It took the pandemic to push some of the more traditional media habits over the edge. I do think that some of the newer societal behaviors that have been introduced, aren't going away anytime soon.
Kris Davis, SVP, Media Experts
There is always opportunity in times of reset. Changes in cultural, behavior and the media ecosystem can be leveraged to help brands make more meaningful connections. Conversely, some fundamentals in these areas will endure. So smart navigation of the future is about balance. Enthusiasm for the new with healthy skepticism, the short with the long term, what's working now with what will give us a competitive advantage in the future.
David Jowett, partner, Epitaph
COVID has accelerated the digitization of everything by many many years, and has given a kick-start to the future virtual / meta world. The transient nature and lack of humanity in the future digital world is a massive threat and opportunity for every brand. Brands are going to have to use media to demonstrate what their brand stands for, and that their brand can be trusted. Brands are going to have to work very hard to capture their own 1st party data if they don't have it. Brands have to start robust test and learn programs if they are going to succeed in this future world.
Geneviève Guay, CEO, Dentsu X Canada
Beyond the pandemic, 2021 was marked by the announcement of the imminent world without cookie. This led us into a bit of a rabbit hole with personal identity, and we have assumed that someone's name, email address and all their data signals define who they are. That is not the whole truth. We are defined by the groups we belong to. The advantage in some ways of cookies not being available is that it will force marketers and their agencies to think about what are those things that bind people together at any given moment in time. The real opportunity is to continue to develop genuine insight and truly understand people instead of understanding signals.
Janice Liu, SVP and GM, Magnet
Media, in a post-pandemic world, is more digital than ever before. However, digital media has evolved and expanded into new mediums such as the metaverse, gaming, new social platforms, AR/VR and more, which comes with new opportunities and challenges. New spaces and mediums equal greater opportunity to take share of attention. New mediums and places for interaction means more opportunity to personalize and to engage with your potential and existing customers. The evolution of what 'catches a person's attention' in order for a message to truly stick and resonate has also significantly shifted. Brands and marketers need to have a far larger toolkit and deeper understanding of platforms where users are interacting and in seemingly more creative ways in leveraging those platforms. Without meaningful intention, brands will not be able to captivate an audience that was once readily available in channels and media before a more digital and omnipresent reality.
Shannon Lewis, president, Canadian Media Directors' Council
A new leadership imperative in the post-pandemic world is: purpose. With societal and world uncertainty, there is a growing need for leaders and brands to use their platforms to lead positive change on issues that are impacting our greater society. Customers want to know what the companies they engage with are doing for, with, and to the world. Therefore, in 2022, we'll see more leaders and businesses reflect the public and positive values we try to live by.