Survivor beats a lineup of season finales: Numeris
Meanwhile, "The Battle of Alberta" brought big ratings in Calgary and Edmonton.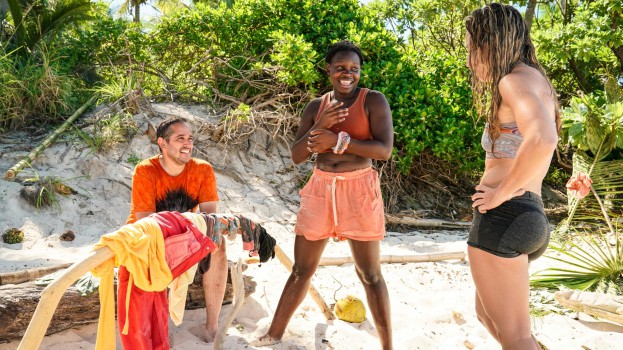 Survivor is once again the most-watched show in Canada, despite some strong competition from other popular shows, according to Numeris May 16 to 22.
Survivor managed to hold on to its top spot despite the rest of the top five airing their respective season finales the same week. However, 9-1-1: Lone Star and NCIS may have suffered from the fact that their finales aired in direct competition on Monday at 9 p.m. on CTV and Global, respectively.
As the "Battle of Alberta" between the Calgary Flames and eventually-victorious Edmonton Oilers began, . Over the course of the week in Calgary, games brought in an average of 91,000 viewers on Sportsnet and 89,000 on CBC. In Edmonton, the games brought in an average of 92,000 on Sportsnet and 68,000 on CBC. The games were counted as multi-night broadcasts by Numeris, and may not be included in the list of single-night broadcasts below.
In Quebec, TVA's unscripted wildlife show Un zoo pas comme les autres was the most-watched French broadcast, up one spot from the week prior.
National
1. Survivor on Global Wednesday at 8 p.m.: 1.702 million
2. 9-1-1 on Global Monday at 8 p.m.: 1.569 million
3. The Good Doctor on CTV Monday at 10 p.m.: 1.546 million
4. 9-1-1: Lone Star on CTV Monday at 9 p.m.: 1.478 million
5. NCIS on Global Monday at 9 p.m.: 1.325 million
Quebec (Francophone)
2 Un zoo pas comme les autres TVA M…… 19:30 20:00 1 814
3 Dans l'oeil du dragon SRC ..W…. 20:00 21:00 1 736
4 Les chefs! SRC M…… 20:00 21:00 1 730
5 Hôpital New Amsterdam TVA M…… 20:00 21:00 1 674
6 VLOG TVA ……S 19:00 19:30 1 671
Toronto/Hamilton
1. 9-1-1: Lone Star on CTV Monday at 9 p.m.: 443,000
2. The Good Doctor on CTV Monday at 10 p.m.: 415,000
3. 9-1-1 on Global Monday at 8 p.m.: 350,000
4. Survivor on Global Wednesday at 8 p.m.: 345,000
5. Saturday Night Live on Global Saturday at 11:29 p.m.: 294,000
Montreal
1. Law & Order: Special Victims Unit on Citytv Thursday at 9 p.m.: 65,000
2. Station 19 on CTV Thursday at 8 p.m.: 49,000
2. 9-1-1: Lone Star on CTV Monday at 9 p.m.: 49,000
4. Grey's Anatomy on CTV Thursday at 9 p.m.: 48,000
4. Law & Order on Citytv Thursday a 8 p.m.: 48,000
Calgary
1. The Good Doctor on CTV Monday at 8 p.m.: 77,000
1. 9-1-1 on Global Monday at 9 p.m.: 77,000
3. FBI on Global Tuesday at 9 p.m.: 70,000
4. S.W.A.T. on Global Sunday at 7 p.m.: 69,000
5. Saturday Night Live on Global Saturday at 9:29 p.m.: 67,000
Edmonton
1. 9-1-1 on Global Monday at 9 p.m.: 84,000
2. Global News Morning on Global Saturday at 7 a.m.: 71,000
3. NCIS on Global Monday at 10 p.m.: 69,000
4. Global News Morning on Global Sunday at 7 a.m.: 68,000
5. NCIS: Hawai'i on Global Monday at 8 p.m.: 60,000
Vancouver/Victoria
1. 9-1-1 on Global Monday at 8 p.m.: 162,000
2. Survivor on Global Wednesday at 8 p.m.: 159,000
3. NCIS on Global Monday at 9 p.m.: 153,000
4. NCIS: Hawai'i on Global Monday at 10 p.m.: 138,000
5. The Masked Singer on CTV Wednesday at 8 p.m.: 132,000