The Amazing Race Canada premieres on top: Numeris
A new season of Big Brother also had a strong showing in the national TV ratings.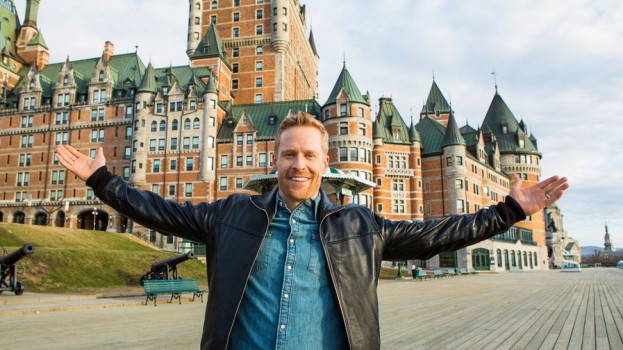 The Amazing Race Canada came out the gates strong, according to Numeris data for the week of July 4 to 10.
The first episode of the competition show's new season delivered an AMA of nearly 1.7 million for CTV.
It was followed by the first two episodes of Big Brother's 24th season. After several weeks at the top, America's Got Talent was pushed down to fourth, while quiz show Generation Gap came in at fifth.
Regionally, The Amazing Race Canada was the top-rated program in the country's biggest TV markets, except for Calgary, where it was narrowly beaten by CTV's broadcast of this year's Calgary Stampede Parade (Global's broadcast of the same parade was third).
In Quebec, TVA's Un zoo pas comme les autres continued its streak as the top-rated show among Francophone audiences.
National
1. The Amazing Race Canada on CTV Tuesday at 9 p.m.: 1.695 million
2. Big Brother on Global Wednesday at 8 p.m.: 996,000
3. Big Brother on Global Sunday at 8 p.m.: 978,000
4. America's Got Talent on Citytv Tuesday at 8 p.m.: 821,000
5. Generation Gap on CTV Thursday at 9 p.m.: 572,000
Quebec (Francophone)
1 Un zoo pas comme les autres TVA M…… 19:30 20:00 1 881
3 9-1-1 TVA .T….. 20:00 21:00 1 631
4 La recrue TVA M…… 21:00 21:59 1 619
6 Escouade 99 TVA .T….. 19:30 20:00 1 558
9 Van aventure TVA .T….. 18:59 19:30 1 516
Toronto/Hamilton
1. The Amazing Race Canada on CTV Tuesday at 9 p.m.: 258,000
2. America's Got Talent on Citytv Tuesday at 8 p.m.: 223,000
3. Big Brother on Global Wednesday at 8 p.m.: 190,000
4. Formula One on TSN Sunday at 8:53 a.m.: 148,000
5. Generation Gap on CTV Thursday at 9 p.m.: 142,000
Montreal (Anglophone)
1. The Amazing Race Canada on CTV Tuesday at 9 p.m.: 45,000
2. Coronation Street on CBC Monday at 7:30 p.m.: 32,000
3. America's Got Talent on Citytv Tuesday at 8 p.m.: 31,000
4. 60 Minutes on Global Sunday at 7 p.m.: 25,000
5. Strays on CBC Tuesday at 8:30 p.m.: 25,000
Calgary
1. Calgary Stampede Parade on CTV Friday at 9 a.m.: 67,000
2. The Amazing Race Canada on CTV Tuesday at 9 p.m.: 63,000
3. Calgary Stampede Parade on Global Friday at 9 a.m.: 55,000
4. FBI: Most Wanted on Global Tuesday at 8 p.m.: 41,000
5. 60 Minutes on Global Sunday at 8 p.m.: 33,000
Edmonton
1. The Amazing Race Canada on CTV Tuesday at 9 p.m.: 88,000
2. Big Brother on Global Wednesday at 9 p.m.: 60,000
3. Global News Morning on Global Sunday at 7 a.m.: 54,000
4. Global News Morning on Global Saturday at 7 a.m.: 49,000
5. Big Brother on Global Sunday at 8 p.m.: 43,000
Vancouver/Victoria
1. The Amazing Race Canada on CTV Tuesday at 9 p.m.: 174,000
2. Alone on History Thursday at 10 p.m.: 125,000
2. 60 Minutes on Global Sunday at 7 p.m.: 125,000
4. Global News Morning on Global Sunday at 7 a.m.: 120,000
5. America's Got Talent on Citytv Tuesday at 8 p.m.: 112,000