DOOH is becoming a growing part of video spending
DPAA's study finds the format's place within the broader media mix is becoming more entrenched.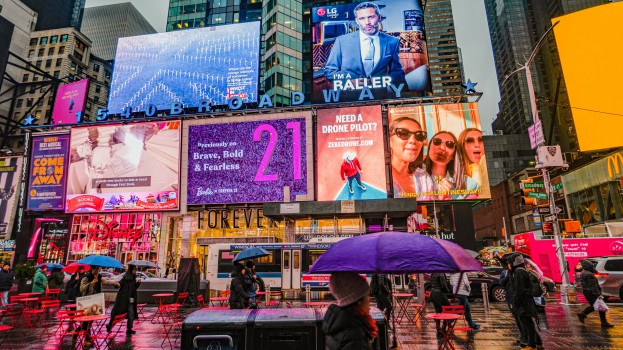 Out of home media is not only recovering from the 2020 media disruption, it's gaining momentum thanks to DOOH growing into a "mainstream" channel within overall digital and video media planning.
That's according to the Canadian Omnichannel Decision Makers study from the Digital Place-based Advertising Association (DPAA). The bi-annual study surveys Canadian brands and agencies on their perceptions, knowledge and plans for using the out-of-home medium. Research was conducted by Advertiser Perceptions and sponsored by Rogers Sports & Media.
The study found that 89% of Canadian omnichannel advertisers believe DOOH has been taken out of traditional OOH media planning silos to enable integrated cross-channel buys. A majority (84%) of omni-digital advertisers plan to recommend DOOH in their media plans in the next year and 88% reported knowledge of the channel has increased in the past 12 months.
For 76% of advertisers, DOOH is an important part of omni-channel video advertising as well. Six in 10 advertisers see DOOH as an extension of video/TV planning, which jumps to nine in 10 if the DOOH screen plays audio.
The top three factors advertisers cited for driving their DOOH investment growth include the fact that marketing mix models show the positive impact of DOOH on business outcomes (54%); attribution of in-store traffic, consumer media behavior and purchase (52%); and the availability of mobile data to track consumer locations before and after exposure to DOOH screens (43%).