Flashpoint premiere wins Friday night
The police drama does well on both sides of the border as it debuts its fourth season.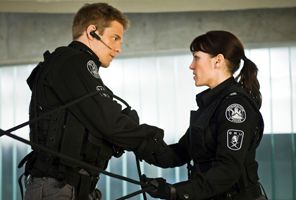 In combined viewership, Canada's CTV and America's CBS earned 7.63 million viewers for the season four premiere of Flashpoint.
Drawing 1.4 million viewers on CTV, the premiere was the most-watched program overall on Canadian TV on Friday night, and earned 27% higher viewership in the 18-to-34 demographic than it did for its season three premiere, according to BBM Canada overnight data.
In the U.S., 6.23 million viewers watched the premiere on CBS, earning it the title of most-watched program in its timeslot with 18- to 49-year-olds and 25- to 54-year-olds. The episode also increased its viewership 50% within those demos compared to the season three finale, according to Nielsen data.
Flashpoint airs in simulcast on both networks at 8 p.m. ET on Friday nights.