The Financial Post gives on-the-go wisdom
The newspaper's online edition takes a new content approach with a series of weekly videos sponsored by Ernst & Young.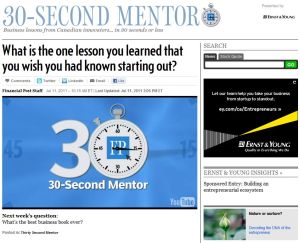 The life of an aspiring entrepreneur can be pretty hectic but with the Financial Post's new online video series, 30-second Mentor, they won't need anything more than 30 seconds a week to be inspired by many of Canada's great business minds.
The recently launched series will run online weekly for the next year, and has already featured big names such as Dragon's Den star Arlene Dickinson, CEO of Venture Communications, and Paul Godfrey, president and CEO of Postmedia Inc.
Business advising company Ernst & Young picked up the segment as a sponsor after a pitch this spring from the Financial Post. The newspaper and advising company are long-time business associates, the Financial Post having sponsored Ernst & Young's Entrepreneur of the Year awards since 1998.
Financial Post executive editor Dean Cummer tells MiC the segments appealed to Ernst & Young because of the company's advice-giving positioning and its demographic, which is targeted at much the same audience that subscribes to the Post.
That target audience – tech-savvy business leaders and entrepreneurs aged 35 to 50 – meshes perfectly with the innovative new content, says Cummer, but he adds that the Post is expecting to widen its reach with the series.
"I think the videos will transcend ages," he says. "I think they'll reach and interest everyone."
The segments will be promoted through Postmedia channels, with a planned year-long print promotion in the National Post, online ads and editorial promotion.
Within the 30-second shorts, business leaders are challenged to answer questions such as "How do you measure success?" and "What did you learn from the recession?", giving viewers a quick taste of wisdom that is accessible anywhere they can access the internet.
"At Postmedia we've turned the corner as to what's news, and what's content," says Cummer. "It doesn't matter what the platform is as long as you're getting the information across as well as you can."