Notes from the Mediascape: Fanta makes fans famous
The Coca-Cola brand launches an interactive campaign, transforming Romanian teens into digital stars.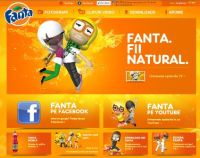 Coca-Cola-owned Fanta made brand-themed avatars of consumers into OOH campaign stars with its recent "Become the Next Fanta Character!" contest in Romania.
The contest, created with the Universal McCann Romania creative team, targeted online aficionados aged 12 to 24 by creating a Fanta personalized Yahoo! IMVironment (IMV), Corina Mocanu, senior media planner, Universal McCann Romania tells MiC.
Close to 112,000 Yahoo! IMVironment's (IMVs) were downloaded between April 1 and May 8 and were used by chatters on the platform as an instant messaging backdrop. The brand even custom-made emoticons to be used in conversations, such as a Fanta face that whistled its signature jingle.
Images of bobble-head Fanta characters were splashed across the IMV tab, with instructions directing users to create their own brand avatar. They were then invited to connect with Facebook to share their creation, as well as a video greeting of themselves submitted to the social networking site. Fans on the page voted for what they felt was the most humourous video and the top-nominated avatar won the prize to be placed in OOH ads in their city, as well as in Fanta TV ads.
"We tried to make the promo more attractive by using a gimmick that would appeal to the young audience – which is the chance to become a 3D character in the next Fanta commercial," Mocanu says. "Taking into consideration the target, we aimed at creating a cutting-edge digital experience for them."
Additionally, the experience was taken offline where Fanta Totem booths were placed in public commercial areas for consumers to interact with, where they could create videos to share with friends on Facebook.
The social media campaign saw homepage takeovers and banner ads across sites, including popular Romanian social network Hi5.com, Yahoo! and MTV Romania, and a brand page on Hi5 was also created. Television ads and interactive video overlays inserted during music videos on stations across the country were also added to the mix.
Last week, the Romanian with the most video votes was announced and the campaign to promote the digital star began on Yahoo IMV.