Ontario Tourism nabs first place on Toronto radio ad charts
Sleep Country Canada takes #2, while Koodo Mobile rises to the top in Montreal, according to Media Monitors for Aug. 1 to 7, 2011.
Ontario Tourism rose from its previous position at #3 on Toronto's radio ad buy charts to #1 this edition with an ad buy of 619 spots, reports Media Monitors for the week of Aug. 1 to 7, 2011.
Previous top-slot holder Rogers Bundle dropped from the charts altogether, as did previous #2, the Government of Canada, making way for this edition's runner-up Sleep Country Canada.
In #3 is Koodo Mobile, making a considerable shift up from #18.
Other notable changes in the Toronto charts are Chrysler-Jeep-Dodge's move from #32 to #5 and Roger's Hi-Speed's entrance to the charts at #9.
In Montreal Koodo Mobile jumped up from #23 to top the charts, pushing previous #1 Dormez-vous to #2.
At #3 is previously uncharted Reno-Depot (a Rona brand).
Other newcomers are Montreal International Reggae Fest at #4, Mazda at #9 and Le SuperClub Videotron at #10.
The biggest shift on the Montreal charts is Shell's move from #8 to #59.
Toronto:
By brand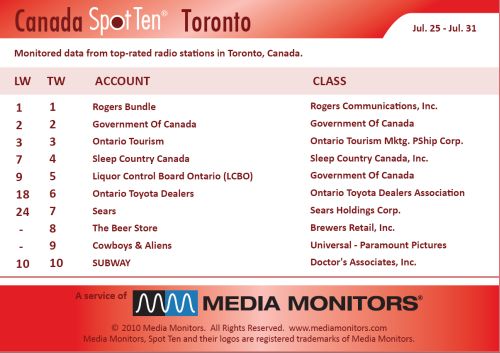 By category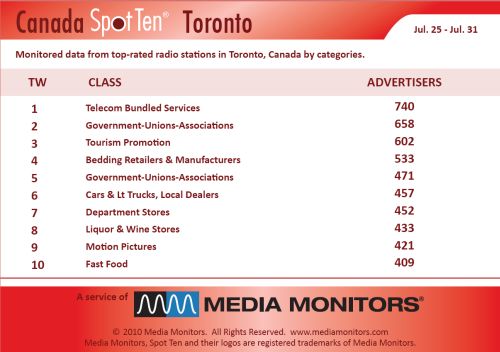 Montreal:
By brand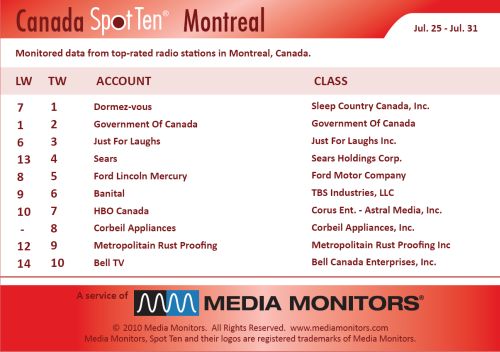 By category