Bell Media and Ford Canada team up for new web series
Intersections launches to promote the Ford Focus and highlight Canadian artists.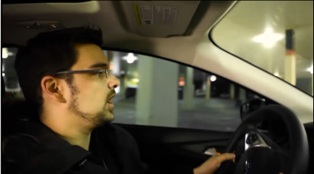 Ford Canada shows no signs of slowing its shift toward branded entertainment, with the brand partnering with Bell Media for the online series Intersections.
"Each episode of Intersections highlights people and places at the crossroads of art and technology, a perfect theme for a partnership that sits at the crossroads of brand and entertainment," says Jon Taylor, senior director of content, Bell Media Digital on the first four-episode phase this week which features the Ford Focus.
Bell Media and Ford began discussing their partnership in fall 2011, but didn't strike a deal until January.
Since then, both companies have collaborated on the production of the series.
"A car is featured in each episode [of Intersections], but it's not a product demo, it's the car fitting into the story," said Taylor.
This isn't Bell Media's first foray into it either. In 2011, it partnered with Audi and picked up the distribution rights for The Confession, starring Kiefer Sutherland.
Taylor says he wants to see this type of digital innovation continue and expand. He believes it's beneficial for both Bell Media and its clients.
"For us, it's about original web video. We have creative control over it and we get to experiment in [the digital] space," he said.
He added that producing branded entertainment is a more cost-effective way for Ford to promote its products.
"We're building a series from scratch around the themes of their brand," he said. "You're not going to get that from a 30-second commercial."
Intersections' first episode features Jason 'DJ Shine' Spanu, an electronica artist who has toured with the likes of Nelly Furtado and Drake. Later episodes will highlight Brian Richer, a designer with Castor Design, B.C. "no boarder" Michael Nyhuis and Bryn Davidson, an eco-friendly architect with Lanefab.
All episodes will include co-branded opening graphics, product integration and custom-created Ford promotional pre-rolls.
Viewers can tune in each week on the series' microsite, Intersections.ctv.ca, where they'll find a large-format embedded video player, participant profiles, and an interactive Ford Focus photo gallery, including features and product details.
Taylor says he sees branded entertainment as an integral part of Bell Media's future.
"I'd like to see us do three or four of these a year or more," he said. "I want to see us innovate in the digital space. I want to see us do things that don't really require television."
Phase two of the series will launch Sept. 17. In the meantime, Ford and Bell are urging more creators to apply for their chance to be featured.