Spotted! John Casablancas spells out a magnetic board
The cosmetics and hair institute placed a 30-foot long billboard with alphabet magnets in the form of a women's profile in Vancouver's Metrotown mall.
Planning was trickier than they hoped, but Vancouver-based agency Spring managed to pull off installing what (from afar) looks like a flowing-haired woman made out of alphabet magnets on a 30-foot long billboard.
The mesmeric board was created and placed for cosmetics and hair training school John Casablancas Institute (JCI) by the agency in support of its long-standing "Born to do this" platform. The inspiration spawned from youth and their desire to be creative, James Filbry, art director, Spring, tells MiC. The board is a reminder to young women who dream of being part of the fashion industry, to take charge of the dream by enrolling in the institute's programs.
While the actual application of the magnets was straightforward (however relatively long, with the team working through the night); finding a safe and large space was what took most of the time, says Filbry. He explains that before deciding on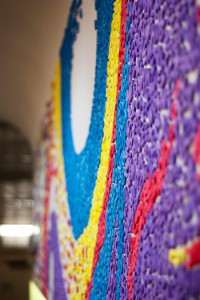 Burnaby's Metrotown Shopping Centre for the execution, Spring looked at the underground Skytrain and other high-traffic locations, but abandoned placement after a couple red flags came up.
The installation doesn't use an actual magnetic board, rather glued down pieces of vinyl attached to the alphabet letters, and there was concern that the magnets would fall and cause a hazard in the busy area. "Also, people tend to pick at things, they might take them, which is something we knew could happen," adds Filbry. "But there is always security [at Metrotown] and the wall itself stands at about six feet high off the ground, so it would be too high to reach."
The BC location is prime for the audience that JCI targets – young female adults, typically between the age of 17 and 25. There is also radio to support, and plans to incorporate a second OOH campaign that will see more traditional billboards. Movement of the magnet wall or perhaps the creation of another board could be a part a second phase of the campaign, depending on the client, he adds.
"People tend to ignore advertising as much as they possibly can. We try to break through that and specifically with John Casablancas, they recognize the real need for something that is different," he adds, using a past execution for the "Illusion" campaign as a testament to the institute's creative chutzpah. For the promotion of JCI's special effects management course, a billboard was placed on the side of a road with an image of a pretty girl transforming to show a demon face as cars drove closer to the sign.