TubeMogul measures branding through surveys
The video advertising co has launched BrandSights, set to go live in Canada next week, to measure online brand campaigns.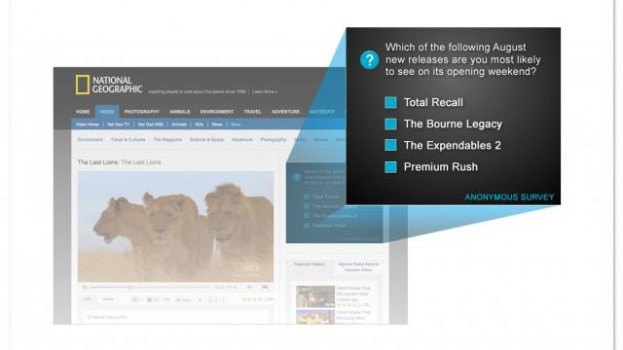 TubeMogul is a video marketing company built specifically to measure the effects of branding on consumers, and this week, the California-based business launched a new product that attempts to do just that, providing advertisers with online surveys that measure purchase intent and message recall.
The product – dubbed BrandSights – officially launched in the US this week and will roll out with Canadian advertisers next week, Grant le Riche, TubeMogul Canada, tells MiC.
Prior to its reveal, the company tested the "brandless" surveys (which are placed in a 300 x 250 display ad unit on a variety of sites) with an entertainment company for its latest film release in New York, Chicago and Los Angeles. Questions pertaining to whether or not the viewer planned to see the film were asked in a four-point multiple choice question.
"The actual intent to watch the film in NY wasn't as high, and the advertiser wouldn't have known that just by measuring click to site rates," notes le Riche. "They're able to refine their campaign based on more brand intent metrics [with BrandSights]."
TubeMogul launched BrandSights to help make brand campaigns as measurable and accountable as Google AdWords, explains le Riche. He adds that online advertising is typically focused on an immediate action such as ad clicks. But the company's forte is video advertising, which is generally used for branding purposes and less likely to garner quantifiable results. The company is able to deliver pre-roll ads through its real-time bidding platform, PlayTime, which can then run alongside the new online surveys.
Through stored anonymous cookie data, TubeMogul can track who is watching the video ads on the page. The surveys are delivered to those who have and have not viewed the ads, allowing the company to compare responses. Le Riche adds that "advertisers can see the metrics of these surveys in real-time and anytime they want" before, during or after a campaign has run.
"Advertisers can transparently measure everything from awareness to purchase consideration and precise control for audience, region and site mix in the same platform they are using to buy media," he says of the product, which is being offered for free to advertisers as a value-add.