Spotted! Air Canada Rouge gets its wings
The airline announced its new leisure brand with an experiential activation in Yonge-Dundas Square.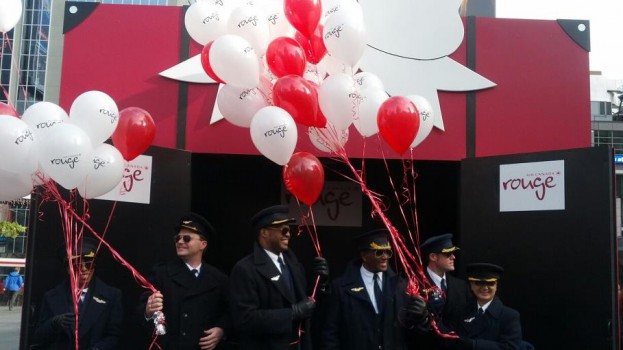 Air Canada is set to take to the skies with Air Canada Rouge, its newly announced leisure brand, that will serve targeted vacation destinations in Europe and the Caribbean.
The airline unveiled the new brand with an experiential activation in Yonge-Dundas Square Tuesday, and gave out 10,000 "boarding passes" offering random discounts of 10% to 99% off base fares.
To find out the amount of the discount and redeem their passes, consumers must "like" the Air Canada Rouge Facebook page, enter the promo code, and follow to the airline's website to book their flights.
"We knew we were competing with a lot of holiday promotions and advertising so we wanted to do something in the holiday spirit, in the form of a giveaway," Renee Smith-Valade, customer experience and marketing lead, Air Canada Rouge, tells MiC.
She adds that the activation was also a good way to give vacationers who worry about airfare more incentive to travel.
The promotional campaign for the launch, which features creative by Bensimon Byrne and Washington-based Paul Wylde, with additional creative and media by Marketel, is also being supported by a print campaign in the Globe and Mail, the National Post, the Montreal Gazette and La Presse.
In addition, a radio contest on 99.9 Virgin Radio will be offering all-inclusive vacations to Santa Maria, Cuba and Punta Cana, Dominican Republic today and Thursday.
Smith-Valade says that Air Canada Rouge will roll out more media campaigns as July 1, 2013, the first day of service for the leisure brand, approaches.
She adds that the campaigns will differ from Air Canada's typical promotions, which are targeted at business travellers, and reach out to "vacation travellers," in particular families and couples.
To further differentiate itself, the leisure brand will offer passengers an array of electronic devices to use, such as laptops, tablets and smartphones with access to TV, music, movies and destination information.
The initial Rouge fleet will consist of four planes, but Ben Smith, EVP and CCO, Air Canada expects it to expand to 50 planes in three to five years, as Air Canada grows its mainline fleet and hires more employees.