Spotted! Orange Julius sculpts a world record
The smoothie maker promoted its roll-out at all Dairy Queen locations across Canada by building the world's largest fruit sculpture in Calgary.
Dairy Queen-owned brand Orange Julius recently promoted its roll-out to all DQ locations across Canada by taking aim at a new Guinness World Record in Calgary.
The smoothie maker, with help from Media Profile and fruit sculptor Shawn Feeney, built the world's largest (and also the first, according to the Guinness World Record book) tree made entirely of fruit.
Targeting its core consumer of women aged 18 to 34, as well as families, Orange Julius also handed out 4,000 free strawberry smoothies to visitors, hosted a meet and greet with Olympic curler Cheryl Bernard and accepted donations for Dairy Queen partner charity the Children's Miracle Network, as well as the Canadian Red Cross to help support the Alberta flood relief efforts.
Denise Hutton, VP of marketing, Dairy Queen Canada, tells MiC that an activation like this was a natural way to promote the arrival of the Orange Julius brand at all Dairy Queen locations because Orange Julius is all about fresh fruit.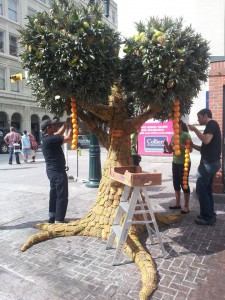 She says that the activation was also based on Dairy Queen's recent history of successful experiential events, noting that the brand also set the Guinness World Record for making the world's largest ice cream cake two years ago and managed to generate a lot of buzz for the brand in the process.
She adds that setting the record for the world's largest fruit sculpture was particularly challenging because it was a new record that hadn't previously been attempted.
The success of Orange Julius' attempt has since been confirmed, and the tree measured just over 10 feet, and was made up of more than 1,200 pieces of pineapple, orange, strawberry, peach and mango.