Toronto Zombie Walk unveils gruesome sponsor lineup
The walk, co-hosted with the Heart and Stroke Foundation, is welcoming sponsors, costume retailer Wholesale Halloween Costumes and Evil Dead: The Musical, as it looks to grow its reach.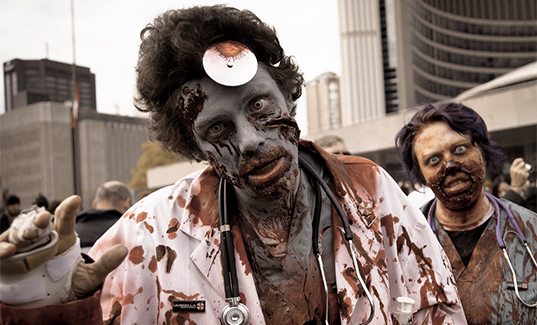 With the Toronto Zombie Walk's return from the dead slated for this weekend, the event has unveiled its full list of partners and new and returning sponsors.
Thea Faulds, founding director, Toronto Zombie Walk, tells MiC that this year's sponsorships are part of the long-term strategy to grow the event into more of a spectacle or a parade that will one-day require road closures and offer a platform for people to both participate and watch.
Joining the sponsor lineup this year is online retailer Wholesale Halloween Costumes, which is donating zombie accessories, makeup and costumes as well as a bulk supply of fake blood and intestines for walk participants to use. It's also hosting a blog with tips and advice for creating zombie costumes and will sponsor a performance by a zombie drumline.
Toronto Zombie Walk is also welcoming the Toronto production of Evil Dead: The Musical as a sponsor. The cast and crew for the play are constructing a float, to remain at the meet-up spot at Nathan Phillips Square, and members of the cast will be performing at the walk in zombie costumes. This year's plans also include a performance by Toronto's Harbourfront Choral Group in full zombie attire.
Through an ongoing partnership with the Heart and Stroke Foundation, the walk will promote CPR awareness. The organization and event first partnered last year when the organization launched its "Undeading" campaign. This year, the Heart and Stroke Foundation will change things up by activating with on-site training demonstrations. Additionally, there will be zombie paramedics on-site at the walk.
Other returning sponsors include Halloween retailers Fee Fi Fo Fun and Creeped Out Canada, which will activate by providing costumes, accessories and make up. Creeped Out Canada will also have an on-site blood booth for Zombie Walk participants to use.
Faulds says that while it's getting down to the wire, the Zombie Walk is always open to adding more sponsors.
Photo courtesy of Toronto Zombie Walk