ET Canada launches multi-platform music series
ET Canada at the Orange Lounge bowed Monday with a performance by Hedley and will offer ad and sponsorship opps, including TV spots, pre-roll and brand integration.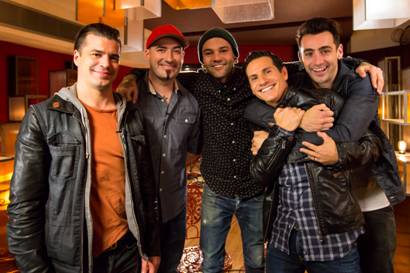 ET Canada is letting fans get up close and personal with their favourite musical artists as part of a newly launched TV and webseries, ET Canada at the Orange Lounge.
The new monthly series, which is a joint project between ET Canada, the Orange Lounge recording studio in Toronto and Universal Music Canada, bowed Monday with a performance and interview session from Canadian band Hedley.
The series is targeted at young adults, and each episode will debut on TV with a sneak peek during one of ET Canada's nightly broadcasts on Global Television. Following the sneak peek, users are encouraged to visit ETCanada.com to view the full performance and interview sessions, as well as additional behind-the scenes-footage from each episode.
Sholeh Fabbri, executive producer, ET Canada, tells MiC that the show launched ET Canada at the Orange Lounge because there has been a shift away from covering live music performances and ET Canada saw an opportunity to fill this gap and offer music fans entertainment content in a new format.
She says the new series is helping to drive the refresh of the ET Canada website, adding that the site now boasts responsive design and a greater focus on breaking entertainment news and exclusive digital content.
Fabbri says the series has long-term possibilities, noting that the channel is looking for ways to get fans directly involved in the experience to allow them to influence the content they see.
There are ad and sponsorship opportunities available around both the broadcast and digital elements of ET Canada at the Orange Lounge, including traditional 30-second TV spots and display ads, as well as pre-roll and brand integration.