Wimbledon finals bring big numbers
Eugenie Bouchard's historic match and Djokovic versus Federer both had record viewers on TSN and RDS.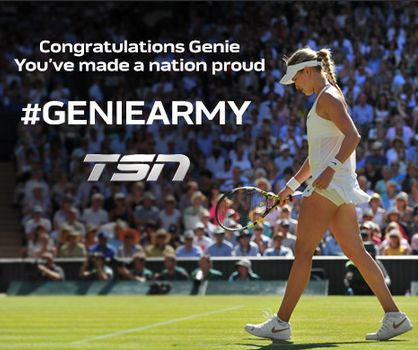 TSN and RDS's broadcast of the Wimbledon final matches continued to bring in the big numbers that have been seen throughout the tournament on the women's and men's sides over the weekend.
Saturday morning's historic match between Canadian Eugenie Bouchard and Petra Kvitova brought in an average audience of 1.8 million viewers on TSN and RDS, making it the top-viewed women's final match on record. Overall the match-up brought in 3.6 million unique viewers, with numbers peaking at 2.1 million during the final minutes of the one hour match.
An average of 319,000 viewers tuned in to see Canada's Vasek Pospisil and his partner Jack Sock of the US win the men's doubles title later in the day on Saturday, reaching 2.2 million unique viewers on TSN and RDS.
On Sunday a record number of viewers tuned in to see Novak Djokovic defeat Roger Federer in five sets for the men's final. The game had an average audience of 823,000, reaching a total of 3.8 million unique viewers.
Overall 10 million Canadian viewers tuned into this year's Wimbledon coverage on TSN and RDS for at least part of the tournament.