Spotted! Finding London in Toronto
To celebrate its 20th anniversary Flight Centre Canada rolled out its first-ever social campaign around a race-style event to win round-trip tickets to London.
How well do Canadian travelers know what London has to offer? Well enough to match the U.K. capital's best-known locations with their equivalent in Toronto if they wanted to walk away with free airline tickets.
Here are two examples: "It's no Buckingham Palace, but this landmark is still fit for a Queen" and "Sherlock Holmes is searching for Banksy. What neighbourhood is he most likely to find him?"
The "We Love London" ticket race, which was sponsored by Air Canada, was the first-ever social-only driven campaign from Flight Centre Canada aimed at highlighting its most-visited destination and growing its social base, while celebrating the company's 20th birthday.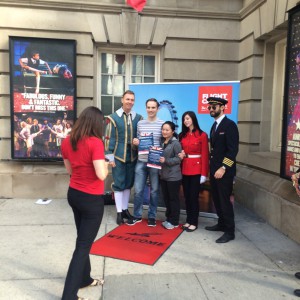 On Sept. 22, the travel retailer sent city-dwellers on a spirited Amazing Race-style hunt to find secret locations based on clues available on social media. Once there, the first person to arrive had to spot a red carpet populated with Londoners (bobbies, Shakespeare and the Queen of England, for a stereotypical start), step on it and utter a password available only on social media. The five winners, one for each location, walked away with two round-trip tickets to its hottest European destination.
Promotions for the campaign were carried out through traditional ad buys, PR and social influencer engagement as well as paid promotion on Facebook and Twitter. Media and creative planning and execution were all done in-house.
"Three-quarters of our advertising has been through social channels…through our weekly newsletter and in our stores across the GTA," says Carre LePage, VP of marketing at Flight Centre Canada. The focus of the campaign was to do something fun around one of the most heavily traveled cities outside of North America while focusing on social media, he says.  
In addition to the online promotion, the campaign was advertised on boards outside Flight Centre's 60 GTA locations (see picture, above) encouraging participants to follow the travel retailer on Facebook and Twitter to access clues and passwords. 
Clues were announced throughout the day with the first one at 9 a.m. The first winner arrived at the correct location at 9:02 a.m., according to LePage.
At each location, participants who reached the destination after the winner got to meet airfare experts from the company dressed as Londoners who handed out boarding passes (naturally) to access an exclusive after-party.  
The after-party is being held at a Toronto pub dressed up like its British sibling where attendees will enjoy British pub-style appetizers and pints of beer. There will also be one final chance to win a pair of round-trip tickets.
(And for those of you still fumbling with responses to the clues above, the answers are Casa Loma and Kensington Market).