Spotted! Catelli's green giveaway
From fusilli tacos to macaroni-stuffed grilled cheese, the pasta brand is hitting the streets to deliver creative takes on dinner (and some free food).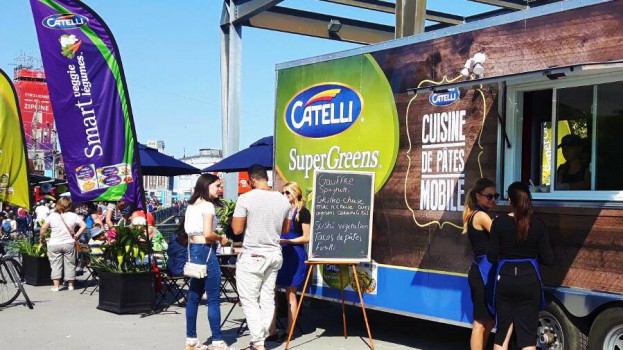 Catelli is promoting its new SuperGreens pasta line by taking it to the streets.
The pasta brand has embarked on a mini Canadian road-trip with a food truck its calling a Mobile Pasta Kitchen and is sharing live recipes and food tips — and, just in case those recipes make anyone hungry, it's also giving away boxes of the SuperGreens pasta.
The campaign was created in collaboration with Toronto-based Rhoddy Marketing Group, which handled media and creative for Catelli.
While the pasta line first (which is a wheat pasta infused with vegetables such as spinach, kale, broccoli and zucchini) launched in March 2016, the company wanted to expose more potential customers to the product.
The tour began in Montreal at the Jacques Cartier Pier Sept. 2 to 5, is currently in Toronto at King and Spadina from Sept. 15 to 25 and will set up shop at the Waterfront Station in Vancouver from Sept. 28 to 30. The goal is to target high foot-traffic areas. The extended stay in Toronto was particularly strategic based on the Toronto International Film Festival, which wrapped up Sept. 18.
"We knew we would be able to increase our opportunity to engage with our target demographic," said Claire Labrom, brand manager with Catelli Foods Canada. She added the target demographic is broad in terms of age and gender, but anyone who is looking to add more nutritional benefits to their meals.
The touring giveaway is accompanied by a social media campaign, #CatelliCreations, which urges customers to upload and tag their creative takes on pasta — such as pasta-stuffed grilled cheese and fusilli tacos.
Those who want to get competitive can also submit photos of their recipes to the company's website before Oct. 9. The culinary wiz behind the winning dish can win a two-night hotel stay in Toronto accompanied by a meet-and-greet with chef Lynn Crawford and a dinner for two at Crawford's five-star restaurant, Ruby Watchco.
Labrom was not able to provide numbers of how many free boxes of pasta were given out as the campaign is still ongoing, but she said the general response from people on the street and those partaking in the #CatelliCreations tag has been very strong.