Spotted! Sick Kids lights up the night
The hospital's fundraising foundation was hoping to appeal to a broader demographic of donors through a new OOH activation in Toronto.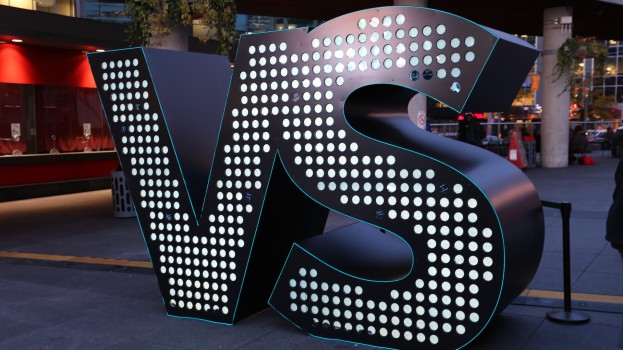 Yonge-Dundas Square is usually bright at night — but on Oct. 26, the public square was illuminated with a particularly vibrant message in support of sick children.
"The overall tone of this activation is a celebration," Lori Davison, VP, brand strategy and communications at SickKids Foundation, told MiC.
The activation is partially to promotes the Sick Kids Foundation's new "VS" campaign, which went live earlier this month and will feature broadcast, social, digital and OOH elements.
It's also an effort to raise funds for Sick Kids while engaging with current donors. Passersby at the activation were given a light bulb to place on a large board modelled after the classic children's toy, Lite Brite. The board eventually spelled out "VS."
Creative for the "VS" campaign was done by Cosette, with media buying for the OOH activation by OMD, while the experiential component (the Lite Brite) was done by Diamond Integrated Marketing. All the work by Diamond was done pro bono.
Other features at the activation included a DJ and "VS" T-shirt sales. Sick Kids' corporate donor Samsung also donated the use of one of its electronic billboards for the evening, and enabled passersby to submit their photos with their own personal battle that they wish to fight ("Lori Vs. Cancer," for example).
While Davison acknowledged the area of Yonge-Dundas Square would draw a broad demographic, she said the activation is concentrating on attracting people in the millennial age range, which she says is younger than the average Sick Kids donor.
"We're hoping because of the proximity to Ryerson and the mall, and a lot of the visual elements of the activation, we'll attract a fairly young crowd."
Historically, she said, Sick Kids' donor base is 35 and older, and skews female, although the new campaign is aiming to broaden that reach.