Sunwing Vacations stays on top: Media Monitors
The vacation and air travel service held on as the top radio ad buyer in Toronto from Oct. 2 to 7.
After making a major leap last week, Sunwing Vacations held the top spot for the most radio advertising purchased in Toronto. That's according to the Media Monitors report for the week of Oct. 2 to 8.
RBC Royal Bank climbed two spots to #2, followed by Rogers Internet and Staples, which each climbed seven spots to #3 and #4 respectively. The top five was rounded out by the Ford Dealers Association, a new entrant to the list.
Other new entrants to the Toronto charts were OPSEU at #7 and GM Certified Service at #10.
Last week's top category buy in Toronto, car and truck dealer associations, fell to #10, while the banking, credit union and financial services category was the biggest buyer for the week with 2,512 spots purchased.
In Montreal, this week marked the third on top for CTV. RBC Royal Bank followed with a small jump to #2 from #4, and new entrant IGA took #3. The biggest leap on the list came from #4 finisher, IGA, rising up from #50. Bride & Groom Canada rounded out the list at #5, up from #6.
Television and cable TV held the top for the largest category  buyer, decreasing its spots purchased slightly to 618 (from 624).
Toronto:
By brand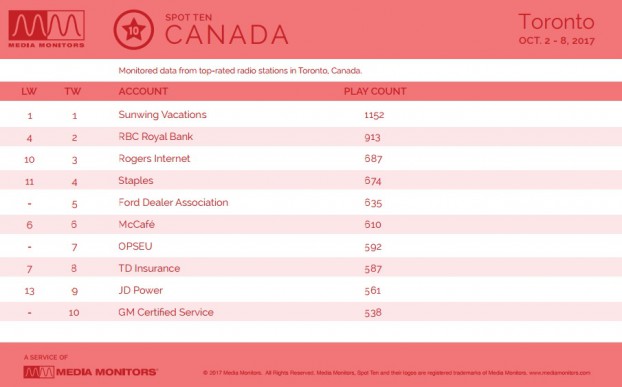 By category
Montreal:
By brand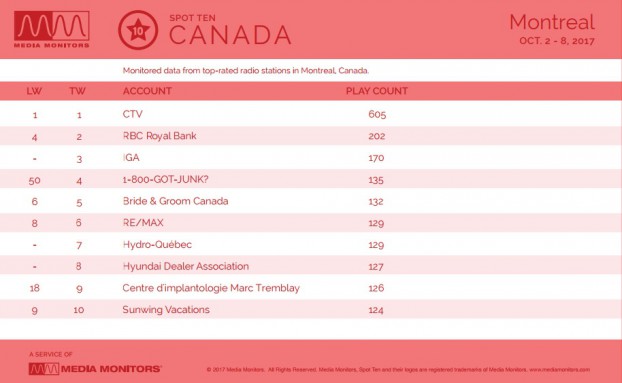 By category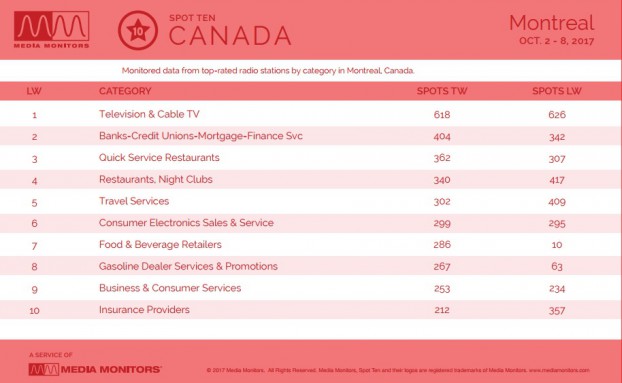 Image: Shutterstock