Mucho Burrito launches first Canadian ad effort
The Doug & Serge-developed campaign includes billboards with controversial taglines to compete with big QSR spenders.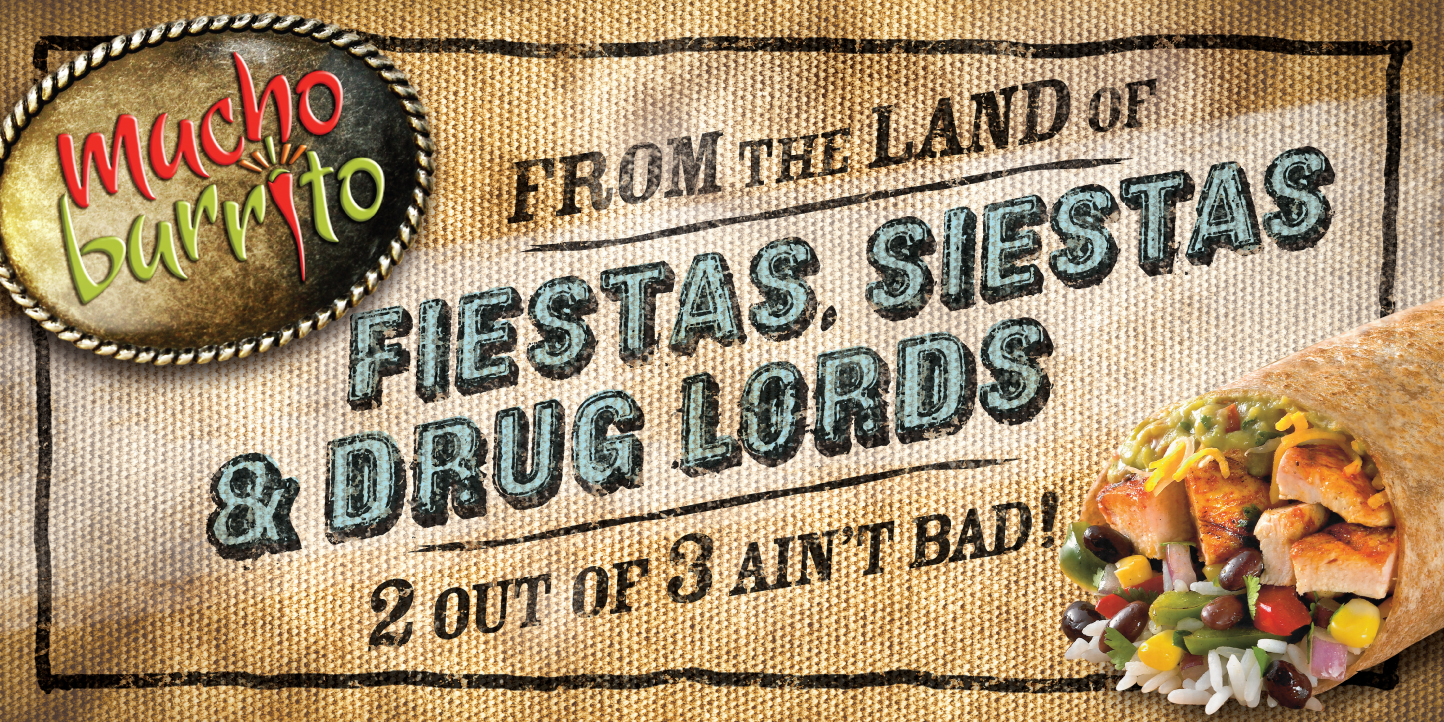 Mucho Burrito has launched its first Canadian advertising campaign and it's a spicy one. Developed by Toronto-based Doug & Serge, the effort is targeting young males, touting the QSR with edgy, attention-grabbing slogans.
The Canadian company, which launched in Mississauga, Ont. in 2006 now owns over 20 locations across Canada.
Running in the GTA, Calgary and Edmonton, digital and traditional billboards, facilitated by Astral Media, CBS and Pattinson Outdoor, with Toronto-based RMR Marketing Services handling the media buy, feature taglines like, "As addictive as crack, but with way more fibre," and "from the land of fiestas, siestas and drug lords…2 out of 3 ain't bad." They are presented in a visual style evocative of painted outdoor signs that can be seen throughout the interior of Mexico and incorporate a stylized Mucho Burrito belt buckle logo.
"We needed to communicate the brand's fundamental positioning and offering, which is about that fresh, authentic Mexican grill," says Mike Welling, president, brand strategist, Doug & Serge. "Knowing the target audience we're going for, we were looking to do things in a way that not only communicated authenticity, but also in a spicy sort of way."
"Definitely, some of the headlines push a little bit in terms of creative," says CD Ian Schwey.
"The budgets aren't enormous here and it's a very competitive market," adds CCO Doug Robinson. "Obviously they want to keep up with the big boys, the big spenders, so they've got to do work that certainly gets noticed."
The billboards complement a radio spot akin to a Mexican version of the famous Molson Canadian rant, where a friend of the mysterious Mucho Burrito character, Johnny Mucho, pontificates on many exciting things authentically Mexican.
Schwey adds that, for now, Johnny Mucho's identity will remain a mystery to save him from being victimized by the overexposure that often plagues QSR-created characters.
"We're keeping him a mystery for now before the character is fully developed in future campaigns," says Schwey.