Rookie Blue plays with viewers
Sponsorship opps are available for an interactive online game promoting the Global TV series.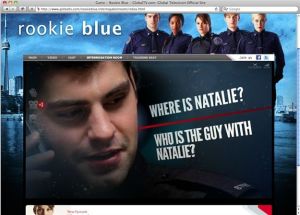 Shaw Media-owned Global TV has launched "The Interrogation Room," a video-based chose-your-own-adventure game for its crime drama, Rookie Blue.
The online game, which allows consumers to pick and choose how an interview interrogation unfolds, is being promoted with 15-second TV spots on Global, as well as through ads on the network's website and via social media, Chris Harris, director online content, Global tells MiC.
There are sponsorship opportunities for brands to be involved in the standalone webisode game, says Harris.
"The package includes a robust combination of client exposure via clickable sponsorship logos as well as brand sell ad units throughout the site," he says. "The site includes a host of video, text and image content from both seasons of the show in which a client can also be integrated."
The premise of the story game revolves around the disappearance of a woman named Nathalie. The player must choose one of two actions for every scene and decide how they will play out the interrogation of a suspect. Highlights include sifting through evidence, devising theories on the suspect motives and choosing whether to play the good or bad cop.
At the end of the online game, players are invited to share their experience with friends on Facebook and Twitter.
Created in-house, the purpose of the game is to increase awareness of the drama series, says Harris, adding that it is also a great way to reward loyal existing viewers.
"Along with our creative goals, it was also important to increase traffic to GlobalTV.com, boost time spent on the site, as well as create a new and innovative way for brands to integrate into premium content," he says.