In a TIFF: HMV features its digital platform
The music sponsor talks to MiC about how it plans to put a spotlight on its online store during this year's fest.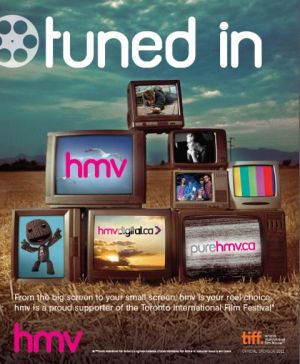 The necessity for brands to steer consumers toward their digital channels is on the up swing, which is why HMV Canada has decided to make a slight addition to its promotional efforts at this year's Toronto International Film Festival (TIFF).
Just over a year ago, HMV launched its digital music store for consumers to shop from a library of over 10 million songs. Up until now, only a modest amount of promotion has supported the online store, Hmvdigital.ca, Saundra Bianchi, director of marketing, HMV Canada tells MiC.
But with TIFF rolling into town in less than two weeks, she says HMV felt that it would be the perfect occasion for it to showcase the store during its tenth year sponsorship of the film festival.
"During the festival, we usually focus heavily on in-store, speaking mostly to the fact that there are products that are related to TIFF," says Bianchi. "We create in-store specific campaigns that revolve around the key directors and actresses and actors being highlighted that year."
While the music store will continue to implement in-store campaigns that promote products featuring this year's festival talent – such as "The Best of Clooney" – HMV will also support its digital channel with over 6,000 single-track download coupons.
The samples can be used through the online store and will be doled out to consumers while waiting in line during screenings at select theatres, including the Ryerson, Visa Screening Room and the Princess of Wales.
The music store has also partnered with Haagen Dazs to get the word out on Hmvdigital.ca with it placing more samples in the ice-cream brand's media and VIP gift bags.
To drive more awareness, HMV will distribute over 12,000 popcorn branded bags in the Elgin theatre and Visa Screening Room over the course of the festival. Each bag will contain a QR code consumers can scan to enter a contest to win a $1,000 gift card.
"Our consumers are extremely passionate about film, so drawing the association of the film festival to the eventual release of the movies to Blue Ray and DVD is also very important for us," Bianchi says.