Next Big Thing: Phoning it in
R.I.P. QR codes. The next evolution in mobile marketing and commerce is almost here.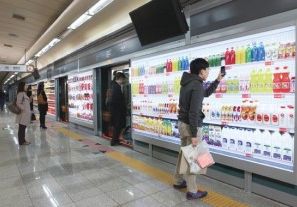 Strategy magazine's Next Big Thing series explores the concepts and technology that will likely change the media and marketing games in the not-so-distant future. Part two looks at advances in mobile marketing. Stay tuned for more from this series in the next few days.
In South Korea, a consumer scans the grocery store aisle, pausing in front of a product. They reach forward, and click, it's purchased. But this consumer isn't in a grocery store, they're on a subway platform, and the product in front of them is just an image with a QR code beneath it. But no matter, the product will be delivered to their door by the time they've returned home after a long commute.
This execution, by UK-based grocery retailer Tesco's Korean chain Homeplus, won the Media Grand Prix at Cannes this year, and Tesco claims it can attribute over 10,000 visitors to its online Homeplus mall to the subway execution.
However, an execution like this hinges on several things going right – namely that consumers will take the time to engage with it, and the technology will cooperate (getting URLs to work underground isn't always an option).
"QR codes are, in my opinion, dying a quick death and thank goodness they are, because they're not useful at all to consumers," says Nick Barbuto, VP digital solutions at Cossette, noting that "most consumers don't care about most messages they see," so asking them to engage with them is often fruitless, and the mechanics behind QR codes – taking a picture with a camera, which sends to a link to visit a web page – is just too cumbersome for most.
But the next evolution is almost here: Near Field Communications (NFC), a concept that has been around for several years and adopted in various forms globally, but has yet to reach its full potential, especially here in Canada. For those unfamiliar, NFC technology works through a chip inside a device (such as a smartphone), that allows for transactions between NFC-enabled devices. One of the most anticipated uses of this is essentially turning your mobile into a credit card, allowing you to pay with the swipe of your smartphone (the wallet-making industry should brace itself).
Kunal Gupta, CEO of Toronto-based Polar Mobile, which has launched mobile apps for companies from Condé Nast to the Toronto Maple Leafs, notes that Android devices are already being made with NFC technology, and the newest wave of BlackBerrys will have it as well.
"The technology is there, it's actually been there for a while," says Gupta, "The technology is not necessarily the challenge, it's more the consumer behaviour, training and education on how to use it for a better user experience."
The future of commerce, according to Gupta, is a world where consumers' payment identities consolidate. Whereas now we have identities in the form of cash, credit cards, an iTunes account, etc., "those identities will become more digital. [And] people will let you use your digital identity to buy physical goods."
The process has already begun. Last year in the US, Isis, a joint venture between Verizon, AT&T and T-Mobile, was created to build a mobile payment network, reportedly in an attempt to maintain independence from the financial companies so that users would keep accounts with the mobile cos, but in July, Visa, MasterCard, Discover and American Express joined on. "That's what's going to make this thing tangible this year," says Barbuto.
NFC technology will also allow location-based marketing to further evolve, with messages being sent to smartphones, such as deals, based on where the customer is inside the store, for instance. It will be hyper-geo location without a GPS.
But before that can happen, implementation of NFC will require changes to infrastructure, relying on adoption by major retailers, which Barbuto expects we will see within the next five years.
The message to marketers, echoed by Barbuto and Gupta, is to educate yourself on this technology and how your organization might take advantage of it, because it's coming fast. In a country where we're generally slow to adopt new payment methods (we still use tokens for Toronto transit) and mobile developments (Canadian-born mobile apps for retailers are few and far between), NFC provides an opportunity to get ahead of the game.
"If you don't start to embrace digital platforms in your culture, especially within your marketing culture, you're going to start to lose touch with the next generation of consumers," says Gupta. "[They're] using digital, using mobile, using social networks to influence the way they buy, the way they date, the way they talk, everything."