Slice goes multi-platform for fall
The Shaw Media channel promotes its fall offerings on everything from gym shower curtains to glittery mall ads.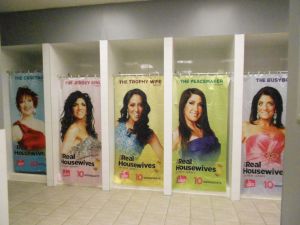 Shaw Media specialty channel Slice is launching its fall season with a multi-platform campaign centered around The Real Housewives of New Jersey and Drop Dead Diva.
Targeting its core audience of women aged 18-to-49, the campaign features in-house creative and media, with the exception of online ads handled by PHD.
Featuring the tagline "They're real. And they're spectacular." The Real Housewives of New Jersey is being promoted with OOH including fitness centre shower curtain executions, large format mall posters adorned with glitter and a glass mural above Bloor Street and Avenue Road in Toronto. The campaign also includes print ads in Flare, Chatelaine, Hello!, People and Fashion.
"We're always looking for media vehicles that allow us to promote our shows in new and memorable ways," Solange Bernard, director of brand and publicity, Lifestyle Channels, Shaw Media tells MiC. " Shaw Media's internal media team recommended the shower curtain idea which was a new outlet for us. To target our core female audience, in the past we have advertised in fitness change rooms with posters, but the shower curtain idea got us really excited. "
The Real Housewives of New Jersey and Drop Dead Diva are also being promoted online, with interactive video ad units which give visitors to sites, including Laineygossip.com, Facebook, TV Guide and Shaw Media sites, the option of playing trailers for the new seasons, says Bernard.
Season three of The Real Housewives of New Jersey premieres Wednesday Sept. 7 at 10 p.m. The third season of Drop Dead Diva premieres Sunday Sept. 11 at 10 p.m. on Slice.