Blog: Veronica Holmes at the ABC Conference
The ZenithOptimedia president of digital brings the San Francisco conference to MiC.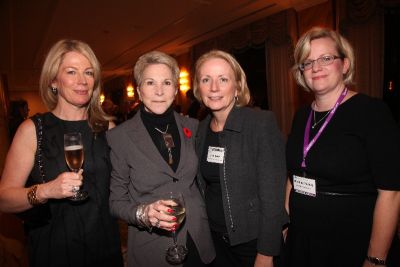 Veronica Holmes is the president of digital at ZenithOptimedia. She blogged this year's Audit Bureau of Circulations annual conference in San Francisco for MiC.
I'm here at the Audit Bureau of Circulation's conference in San Francisco.  As part of the Digital Advisory Committee for ABC, I know their commitment to understanding the implications of the shift to digital, so I'm excited by a schedule that is heavily focused on digital.
Michael Lavery, president and managing director, ABC, shared his view that the shift from print to digital is not linear, but rather it's more of an ecosystem that encompasses new forms of distribution like mobile, newsletters, social sharing and text.
He showcased the new CMRs, or Consolidated Media Reports, that allow media planners and buyers to understand the true reach across all platforms. ABC is adapting their mandate to measure and confirm circulation to the digital world.  As a media planner, I'm keen to see these roll out.
The panels began next – first up was "Using social media to expand publishing communities" hosted by Steve Rossi, president and CEO, California Newspapers Partnership.  The bottom line: social sharing is critical to increasing consumption.  Laura Graham O'Shaughnessy, GM Social Code, The Washington Post, shared how their Social Reader app allows the paper to take advantage of the Facebook platform to increase engagement.
Justin Osofsky, director, media partnerships for Facebook, said that referrals from Facebook to news sites have grown by more than 300% in the past year.  He talked about how Facebook's social-by-design mindset enables engagement – for example when readers of the Huffington Post are logged in to Facebook, they consume 22% more page views on HuffPo site than other users.
LinkedIn executive editor Daniel Roth sees his site as a key traffic generator with referral traffic up 75% as a result of their aggregation of top stories being shared on the platform. He noted BusinessInsider.com's use of ChartBeat (visible on every page of their site) that clearly shows the traffic generating power of the LinkedIn platform. The panel's top tips for social sharing success: customize sharing for each platform, and build the persona of your journalist/content producer and allow them to interact with readers. When asked for tips on monetizing social sharing, the panel came up a little light, focusing on the inherent "value" of the traffic.
The second panel, hosted by Ted Boyd, CEO at 58Ninety, explored strategies to grow digital subscriptions. All agreed that these are early days for subscription models and that so far, bundles of print and online seem to be most successful.  Mark Johnson, CEO of Zite, provoked discussion by stating that consumers of the future will only consume media in a digital format. Lee Shirani, director of product management, Magazines & Newspapers, Google, noted that each month Google send 4B clicks to publishers, 1B from Google News, and that the new OnePass would drive digital content sales.
When asked to give their predictions for the future, Johnson suggested consumers will demand a higher level of interactivity, and  that publishers have to start thinking about an Angry Birds-style of engagement. Lynne Brennen, SVP circulation, WSJ, said that digital will rejuvenate news for youth – that they're savvier and will demand a quality news experience.  My favourite comment was from Deepak Shah, VP circulation for The Economist who likened print media to the horse and carriage – eventually, everyone who uses them will be dead…[uneasy] laughs all around the room.
The last panel was hosted by Alex Tamayo, managing director, PHD, focused on building a better digital magazine.  He began with a video of a baby trying to touch, swipe and pinch a magazine – conclusion – a magazine is an iPad that doesn't work.
Chris Anderson, editor, Wired magazine, defined magazines as a curated product and digital as crowd-sourced (though he admitted that editorial promotion on their homepage probably had a lot to do with popularity).  He said that Wired has transformed their process from "writing" a story to "telling" a story with the focus on picking the medium that can tell the story most effectively.  He added that digital allows for that story to be told in a way that is personalized, for instance, one user may prefer video, one an infographic or text.  He cautioned that although digital allows you to leverage a more complex user interface, it's not always practical.
The key is adapting the workflow to produce more without requiring ten times the staff.  Brenda White, SVP, Starcom, noted that consumers feel differently about the magazine brand when it's digital and even across digital devices, and that advertisers need to understand this and perhaps adjust their creative for each.  She noted that Starcom is working to understand how to measure the impact of digital versions and how the halo effect of being associated with a big story can bring value to advertisers.  White counselled that media planners need to plan experiences vs. planning by platform/channel.
The highlight for me came after lunch.  Jack Griffin, ex of Meredith Publishing and now founder of Empirical Strategic Advisors gave a fantastic speech.  He talked about how the core revenue generators of print (classified ads, magazine sweepstakes) were never about the content. Their disruption by digital players has laid bare the fact that news doesn't make profit.   Jack noted the Investment Banking firm CoRise's framework that shows how the four spheres of digital media (social, information, transaction and entertainment) are increasingly overlapping and that even though traditional media players are well aware that digital advertising cannot fund substitution, they must become digital experts (natives) to realize future opportunity.
Mobile was a key theme, as Griffin pointed to the fact that by 2020, 90% of the world's eight billion people will be connected by mobile devices.  Griffin noted that advertising is splitting into two camps – mass reach and awareness, and the last mile (characterized by marketing to a person as they are about to do something, where their intent is clear).  He pointed to BBC.com as a model for an intent-based experience. Griffin presented WSJ Live and The Economist's IdeasPeopleChannel as two examples of a media company's successful foray into monetizing digital. Griffin listed the following key accelerators of digital media:  iOS devices, 4G, personal Clouds, Kindle Fire (affordable tablet computing), geolocation, touch interfaces, usage metrics and analytics, aggregators, YouTube, HTML5, IPTV and Apple TV, and lastly mobile payments. Very inspirational and certainly got the whole room thinking.
And so, while conference attendees acknowledge there's no clear answer to how to make money in the digital world, there's a confidence that adaptation is possible.  Now to enjoy the fantastic weather and wine with my wonderful boss, Sunni Boot, CEO, ZenithOptimedia Canada, who now assumes the role of chairman for ABC.
Thanks to Media in Canada and to ABC for allowing me to report from the conference.
Pictured from left to right: Shelagh Stoneham of Rogers Communications, Sunni Boot of ZenithOptimedia Canada, Joan Brehl, ABC, and Veronica Holmes of ZenithOptimedia.