Tassimo battles it out
The instant beverage maker launches a holiday contest that has the brand's coffee machine competing against an elf and other festive opponents.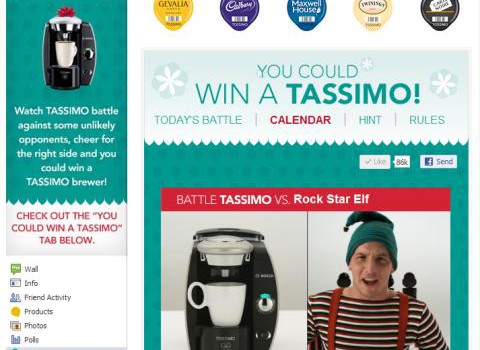 In a span of nearly a year, instant beverage maker Tassimo has grown its Facebook fan following from just shy of 12,000 to over 85,000, as well as increased its website traffic by over 100%,  Luke Cole, senior brand manager, Kraft Canada, tells MiC.
Cole believes that the positive uptake is a result of the brand's active digital presence, most notably in a series of video-based Facebook promotions that rolled out during the Mother's Day period and most recently, the launch of its holiday season contest.
Six days ago, the brand launched, with the help of its digital agency Trapeze, a "You can win a Tassimo!" tab on its Facebook page. The promotion was inspired by the advent calendar in order to take part in the countdown to December 25 and within the campaign's first few days, the page following has increased by over 20,000.
Earlier this year, Tassimo launched a week-long Mother's Day campaign where fans of its Facebook page were asked to send in a loving ode to their mother to be later made into a video song message performed by the Wibi choir from York University.
In the holiday promotion, the brand pits a Tassimo coffee brewer against a number of characters and objects. Some are festive-inspired and others are just plain random, such as the Dec. 6 challenger, Massimo, which coincidentally (or not) rhymes with Tassimo.
Others that have joined the friendly battle include a Rock Star Elf, a Crockpot and today's opponents, the Three Wise Men. There are also daily videos that showcase the different challengers.
Visitors to the page can vote for their favourite challenger, although Tassimo warns them that they should probably cast their vote for the brand's coffee machine. So far, the brewer has won six out of the six challenges and each day, a Tassimo T45 brewer is awarded to a randomly selected participant.
The contest has been promoted through Facebook ads, blogger outreach as well as online banner and pre-roll video ads,  Mike Kasprow, VP and CD, Trapeze tells MiC.
"When we were looking at the festive season this year, we tried to think of a way to expand the [Mother's Day] program," says Kasprow. "We wanted to provide a similar level of content, but do it in a way that expressly illustrates the benefits of the Tassimo brewer around the festive season when people are thinking of gift buying."
In the past, Cole explains, the brand took part in basic product give-away promotions, such as its coffee brewer exchange program, where the brand would swap a consumer's old coffee machine (of any brand) for a new Tassimo machine in malls across Canada.
"Our recent promotion is a lot more engaging and by adding the videos and making it more interactive, we're creating a strong word-of-mouth element to the campaign," he adds.
Kasprow concurs in saying that the give-away promotion, which they continue to do each year, does tend to have a more limited reach.
"The [product give-away] program was really about urban centers, but you couldn't get it in every city in Ontario or every city in Quebec, whereas this promotion can reach every Tassimo consumer," he says. "From coast-to-coast people can participate."