Subway creates new days
The QSR has launched its first radio campaign for the Sub of the Day, aimed at commuters.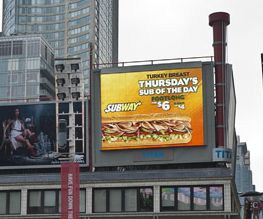 Subway has created its first radio campaign for the QSR's Sub of the Day promotion, with a different spot for each day of the week.
The campaign, which runs in Toronto and across southern Ontario also features digital OOH ads running in the same areas with media by Carat and creative from Cundari.
The ads, which run on stations including Toronto's 104.5, 103.5 and 99.9 feature creative which has consumers getting so into their Sub of the Day, they can't remember the original name for the day of the week (ie, "pick you up at eight on Subway Club day?").
Brent Choi, chief creative officer at Cundari, tells MiC the ads are aimed at catching people on their way to work, with the sweet spot audience for the brand being consumers aged 16 to 25.
"We have never done a radio campaign for Sub of the Day," he says. "It is the first time we have done seven different spots for one campaign. People will always know what the Sub of the Day is."