Bell Media, Shaw sites in Canadian top 10 for video views
ComScore pegs the broadcaster-driven websites (channel inclusive) in the top 10 in Canada for total video views.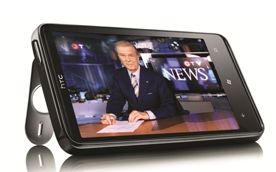 It's no surprise that U.S.-based online sites like Google's YouTube and Vevo continue to dominate Canadian video consumption.
But comScore figures released Thursday by Bell Media indicate that its combined online video sites, including CTV.ca and MTV.ca, were the second most-watched by Canadian video consumers last year, just behind Google sites (including YouTube).
Next on the league table were rival U.S. sites like Vevo.com (#3), Microsoft video sites (#4) and Facebook (#5).
The comScore data for January to November 2011 has Shaw Media sites in 10th place and CBC/Radio Canada sites in 14th place.
The latest video consumption figures underline the competition Canadian broadcasters face as they jostle with U.S. websites for a share of the estimated $2.4 billion Canadian online advertising market.
To chase ad dollars in a fractured media environment, Canadian broadcasters have been building out their digital presence with "TV everywhere" products like Rogers On Demand Online, Shaw Direct Online VOD, and mobile TV for smartphones like Bell TV.
And pay TV operators like The Movie Network and Movie Central are offering high-paying subscribers extra programming like HBO Canada to keep them from cutting the cord.
The effort comes as Canadians remain among the most digitally engaged consumers worldwide, with most reporting they view video online.
As yet, Canadians are consuming video online mostly via free sites run by broadcasters that offer catch-up TV viewing, or downloading TV shows and movies on legal sites like Netflix Canada and iTunes, or through illegal P2P services.
All of which underscores the threat U.S. online video distributors post to established Canadian broadcast players' traditional business models.
From Playback Daily