James Ready takes media prize at CASSIES
The beer co also took home the inaugural Globe Creative Effectiveness Prize, and the Grand Prix went to Newfoundland and Labrador Tourism.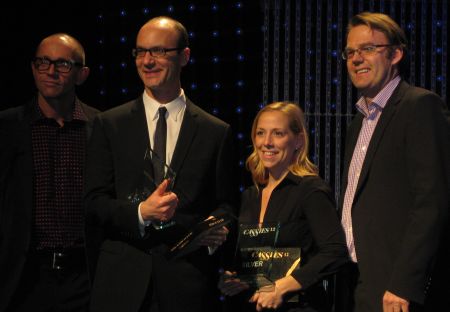 James Ready and its "Help Us, Help You" campaign was the big media winner at last night's CASSIES, the award show which recognizes the business achievements of Canada's top advertisers and agencies.
Taking home Gold in media, as well as the inaugural Globe Creative Effectiveness Prize and a Silver in Sustained Success, James Ready's 2010 campaign with media by Starcom MediaVest Group and creative by Leo Burnett.
The website showed people how to make their own beer coasters, hats and T-shirts, and everyone who submitted a message got a handwritten thank you from the brewery.
Then came billboard coupons: all consumers had to do was take a picture of the billboard coupon on their phone, present it to the local business and redeem. Later, on radio, came "How Can JR Help You?" which made listeners two offers; airtime in a radio spot to use as they see fit and the chance to get help from the brewery wherever they needed it. From an immense pool of responses, JR fulfilled the big wishes of five lucky fans.
Finally, even a screw-up was turned into an advantage. When a printing error left millions of JR Beer Caps blank, fans immediately asked "WTF?" To make amends, JR launched the Blank Cap Recall. Any drinker who mailed in a blank cap would get something fun and cheap as compensation. Thousands of drinkers participated, and the irreverent response helped cement love of the brand.
Results: Against 2007 as a base, James Ready's sales in hectolitres grew 245% by 2011. Market share followed suit, adding a full share point and growing from 0.39% to 1.39%.
The other big CASSIES winner last night was Newfoundland and Labrador Tourism, which took home the Grand Prix as well as Gold in the Sustained Success category for its campaign with creative and media by Target Marketing.
For a full list of CASSIES winners and the cases behind them, visit Strategyonline.ca.
The CASSIES are presented by the CASSIES Board — the Institute of Communication Agencies (ICA), Association des agences de publicité du Québec (AAPQ) and Association des professionnels de la communication et du marketing (APCM) — and produced by strategy Magazine.