Bell gets chattier
The company has expanded its "Let's Talk" campaign with an increased online presence.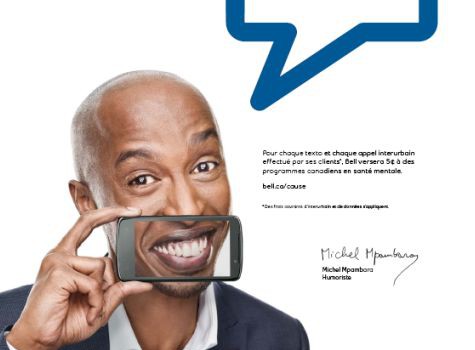 Bell Canada has expanded its "Let's Talk" CSR program with an increased online and social media push for its second year.
The program, with media by Media Experts, creative by LG2 and digital by Teehan+Lax, aims to combat the stigma around depression and mental health issues with a national multi-platform campaign featuring well-known Canadians including Olympian Clara Hughes and French comedian Michel Mpambara.
All media around the second year of the five-year campaign promotes Bell Canada's Let's Talk Day on Feb. 8, when the company donates five cents for every text sent by one of its customers. Last year, Rick Seifeddine, senior VP, brand strategy at Bell Canada tells MiC that 66,079,236 messages were sent, which raised $3.3 million for Canadian mental health services.
"This year we hope to beat numbers from last year," he says. "On Let's Talk Day we were on track to beat the number of text messages sent following Sidney Crosby's goal during the 2010 Olympics."
Seifeddine says he can't say whether the company is selling more phones since the launch of the CSR initiative last year, but says it has created a halo effect around the brand in the minds of consumers.
"There isn't a person that I meet who brings up the topic with me that doesn't appreciate us doing it," he says. "Even though one in three Canadians suffer from depression, other people are the brother, or the friend of someone. The air is pregnant with the need to have this issue addressed in some way. I have seen a difference in the way people perceive Bell as a corporate citizen because of the campaign."