L'Oreal Paris helps Fashion celebrate its birthday
For its anniversary, the magazine asks readers to name a new Colour Riche lipstick set to hit shelves this October.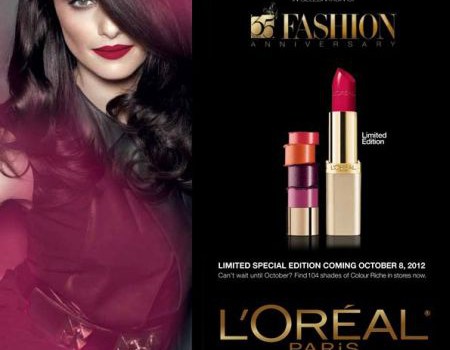 Fashion magazine is  celebrating its 35th anniversary in 2012, and L'Oreal Paris is helping with a new Colour Riche lipstick colour designed exclusively for the St. Joseph Media-published title.
The partnership came together when L'Oreal Paris's media agency ZenithOptimedia pitched the idea to link with Fashion magazine to promote its expanding portfolio of shades for Colour Riche, Jennilee Dunwoody, group manager, L'Oreal Paris Cosmetics tells MiC.
"We wanted a way to communicate with consumers and build our voice as a fashion-forward brand with very luxurious colours," she says. "We were looking for an opportunity to showcase the special-ness of our lipstick."
Readers are asked to name the dark-berry lipstick (temporarily called Colour Riche #35), which hits shelves on Oct. 8, the same time as Fashion magazine's official anniversary issue, says Dunwoody. The official name will be chosen by a team at Fashion magazine and L'Oreal Paris from the pool of consumer entries.
The new shade will be promoted on Fashion magazine's site, as well as with ads in print issues until October. Once chosen, the name of the shade will be promoted with a campaign starring actress Rachel Weisz, says Dunwoody.