Ford breaks into branded entertainment on NBC
Reality show Great Escapes launches to promote the car-makers new Escape vehicle.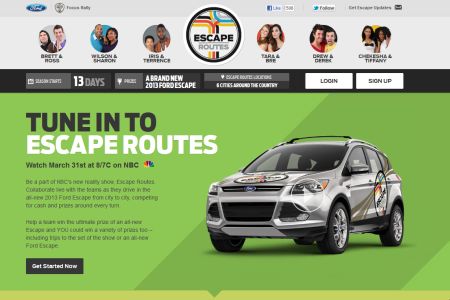 Ford is delving further into branded entertainment with Escape Routes, a reality show that will air during NBC and Latin American network, mun2's Saturday night programming.
In 2009, Ford promoted its Fiesta by handing over the keys of 100 vehicles to social "agents" who then relayed their experiences with the cars using social media. Fast forward two years, and the brand launched its Focus Rally: America online series, which was housed on Hulu and followed six teams as they completed challenges across the country using the Focus vehicle.
Having learned from the previous new media executions, and wanting to reach a broader audience, the auto brand enlisted Profiles Television (the producers behind The Amazing Race), to create its road-trip style series. The fast-paced show follows the adventures of six two-person teams as they travel across the US using the new Ford Escape.
From Twitter to TV, Ford is trying to engage consumers in ways other automotive brands aren't, Crystal Worthem, brand content alliance manager, Ford tells MiC, adding that the show is an evolution of sorts from the Hulu-housed Focus show. The brand had actually pitched the season of Focus Rally: America for TV before deciding to produce a whole new season with its Escape vehicle, which recently launched with a new design and additional features, she says.
What's more, a layer of social media has been added to the series where viewers will be able to chat with contestants on Escaperoutes.com and earn prizes through competitions. They can earn additional entries for the show sweepstakes by recruiting friends and family to register on the site and choose their favourite team to support.
"Traditionally, reality shows are shot months in advance and then aired. People develop all types of passion around different teams that they like, but can't really do anything with [that passion]," says Worthem, adding that the real-time element of the show really gives the show a deeper level of engagement.
Escape Routes premieres on NBC at 8 p.m. on March 31 and later that evening on Latin American network, mun2, at 11 p.m. Liz Fischer, spokeswoman at NBC says that she believes the show will add some stimulating content to the network's Saturday night programming.
"We think it adds an exciting element to Saturday nights," says Fischer. "Escape Routes has some of the most talented producers in the business and we think it will be a great entertainment experience for our viewers."
Ford is working hard to veer away from the predictable when it comes to marketing, says Worthem. "Of course, we will do all the traditional plays in the playbook, but we always want to do something that will break the mould and really get people talking."