Coors Light infuses its beer with Iced T
The first product line extension for the Molson brand will launch exclusively in Canada with a full-scale campaign targeting urban adults.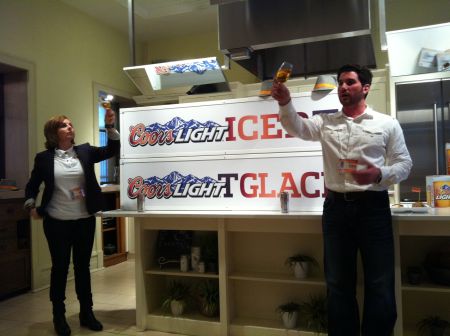 Coors Light is keen to cash in on patio season with its new summer-inspired beer that has the brand mixing the world's second-most consumed beverage (tea) with the third most consumed (beer) to create Coors Light Iced T.
The official announcement of the launch of the Molson brand's first-ever line extension came yesterday at a media event in Toronto, weeks ahead of its distribution date of April 2.
The brand plans to launch an all-out summer-themed campaign (with media handled by Mediaedge and creative from Draftfcb) starting March 26 that includes TV spots, outdoor, transit as well as heavy online push.
There will also be bar sampling and a series of pop-up booths where the brand will have a projected total of one million consumers trying out  Coors Light Iced T, says Jenn Davidson, VP of marketing, Coors Light.
The tea beer is brewed in Montreal and will be exclusive to Canada, says Davidson, adding that, "We have a strong base from which to work with [in Canada]. We're going to see how it goes, and with success, this has the potential to roll out [to other countries]. But right now our focus is Canada."
Appealing to an upscale, urban crowd of occasional and regular beer drinkers in their late 20s and early 30s, Davidson says that the brand has high hopes that the new product will be a summer staple this year.
Photo: Jennifer Davidson, VP marketing, Coors Light, Steve Stradiotto, master brewer, Molson Coors Canada