The schedule that Little Mosque built
Kirstine Stewart talks to MiC about the show, which is ending its six-season run, that proved to the CBC it could make something Canadians would watch.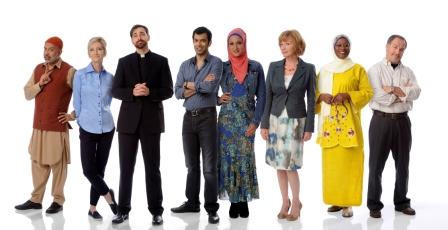 When Little Mosque on the Prairie premiered six seasons ago on Jan. 9 at 8:30 p.m., 2007 to the tune of 2.1 million viewers, Kirstine Stewart, executive VP, CBC English Services, tells MiC it meant a hit show for the pubcaster, and also marked a change in mindset for people at the network who hadn't seen numbers like that for a long time.
"I had come in and we were trying to bring new shows in that were going to be broad-based and interesting to a wider range of audience," she says. "Introducing something like a Little Mosque on the Prairie was a risk, but it was a calculated one. We knew Canadians liked scripted comedy because Corner Gas was doing well [on CTV], but CBC hadn't had a hit like that in a long time. The idea of bringing something like that to the schedule ended up changing the way we did things afterwards."
"People started coming to the CBC in a different way. There was a myth that the CBC had passed on Corner Gas, which I found out wasn't true. But people said that it wouldn't matter if it was true, because it wouldn't do well on the CBC, because the CBC couldn't do well with anything. So when Little Mosque launched like it did, that had been unheard of for so long that it actually turned the perception in the building to 'yes we can.'"
Numbers for the show have dipped since that first episode six seasons ago, season one had an average of 1.25 million viewers per episode and season six is averaging 469,000 viewers, according to BBM Canada numbers provided by CBC, but the show sparked the idea that Canadian scripted shows could succeed in CBC's primetime lineup. Evidence of this change in thinking at the pubcaster is still seen in the winter 2012 schedule, which has posted strong numbers for original programming including Arctic Air, Mr. D and Republic of Doyle.
Despite its successful season, anticipated funding cuts from the federal government are coming in at 10% of the $1.1 billion grant later this week, and will mean cuts across the board for the CBC if they come in at forecasted levels, says Stewart.
"It is unusual for any conventional network to grow like we have for the past six years," she says. "Of course we had a lower base to start from, but we now surpass Global in our primetime audiences. That is a good thing for a public broadcaster. It means people are turning to Canadian shows instead of American shows in some cases."
Government funding is staying stagnant, or most likely decreasing, meaning that the CBC is open to more opportunities like Maytag's sponsorship of Monday night programming, or Best Recipes Ever, which is made with Canadian Living magaizne, that aren't overt in their sponsorship or branding, says Stewart.
"We will have to look at more options like Maytag Mondays where brands get good placement but it doesn't interfere with the programming," she says. "The thing we have benefitting us is that audiences are coming to the CBC so we actually have increased revenue. The revenue doesn't go into stock options for us, it goes right back into programming."
Little Mosque on the Prairie airs its final episode on Monday, April 2 at 8:30 p.m.